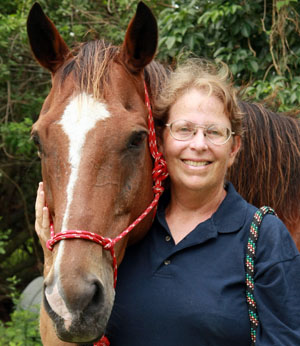 I bet you're already wondering, what the heck is a tagine? I was wondering the same thing when I got a call from Gisela Pferdekaemper a few weeks back.
"I have made these new things, and you must come and see them," she insisted.
She didn't have to insist too hard. I love seeing anything Gisela makes. She's one of my favorite local artists. Her fanciful horse paintings of what she calls the "fat mares" grabbed me the very first time I saw one many years ago. I have two giclee prints of hers framed and hanging on a wall: fat mares on a bookshelf filled with books, and a somewhat abstract fat mare. They make me smile each time I glimpse them.
And so, I hustled over to Gisela's home and studio in Loxahatchee Groves to see these new things of hers. She and her husband, Howald, live in a lovely log house. Her spacious studio is a remodeled barn.
"I love our home," Gisela remarked. "Years ago I used to board my stallion Garibaldi here after he was retired. The people loved him and took such wonderful care of him. He was allowed to do anything he wanted. He'd eat their garden down to nothing, stand in the pond, almost came into the house. They rode him every day until he was 31. He had a good, long life. I visited so often and fell in love with the property. I told them, if you ever want to sell it, you must come first to us. And eight years ago, they did."
Now horseless, Gisela started painting and sculpting full time.
"I've been painting for a long time," she said. "I studied art for four years in Germany when I grew up. Then I took a clay course here in Florida years ago. I like working in three dimensions, where I can show the whole figure instead of just pretending it's there, like in painting."
Those unique mares helped her make a name for herself.
"My fat, round-bottomed mares were successful right from the beginning," she said. "To me they look like big fat pregnant Hanoverian mares. By the time they've progressed in their pregnancy, if you watch them when they lay down, their butts are just so fat, they look so disproportionate, you have to laugh."
They're the stars of her work.
"I've done around 50 paintings of fat mares in different settings: with money, flowers, books, all sorts of things," she said. "I put some of them in bathing suits because of a form I had to sign before I could display them in some venues which insisted no political themes and no nudes. So I painted them in bathing suits."
Gisela's displayed her works at the airport and city hall in West Palm Beach, along with shows in Miami, New York City and Rochester, N.Y. Her fired and glazed ceramic figures have also done well. There are fat horses, of course, along with chickens, bowls and containers decorated with horses and dogs. She recently begun painting life-sized fiberglass horses. The first one was commissioned with a Florida theme, so she's covering it with native flora and fauna.
And now she's making this new thing, tagines. As she led me into her studio, Gisela
proudly led me to a table covered with them, cone-shaped and dome-shaped ceramic cooking vessels. Each one had a small cup-like depression at the top. Some had glazed ceramic bases, and some a conventional nonstick metal pot on the bottom.
But these weren't just any cooking vessels; these were ones done by Gisela, and so along with the traditional Moroccan designs, some were decorated with dogs and horses. One dome-shaped yellow one immediately drew my eye: the red horses cavorting around it reminded me of my mare (who, come to think of it, has a fat butt, although she's all Quarter Horse, not Hanoverian, and definitely not pregnant).
"Here are the tagines." Gisela waved at the display. "I have been making them for a little while now. My friend, who's a nutritionist, was on a cruise last year, and visited Morocco and ate food cooked in a tagine. It's a traditional Moroccan cooking vessel. She loved the meals so much, she bought a tagine and brought it home, but then was worried there might be lead in the clay or glaze, so she asked me to make one for her."
It took almost two months of experimenting to get the size and form correct.
"But now I have three different sizes and two shapes, cone and dome. After I made one for her, I made one for me. I cook in it every day. It's fantastic," Gisela said. "Howald is a diabetic, and he'd gotten so bad that he was having to inject insulin. Since I've been cooking our meals in the tagine, his insulin has become almost normal. He does not need injections, only the pills, and he's lost weight, even though he's done nothing else different. We were astonished."
Now, Gisela cooks everything in the tagine.
"I invite friends over and cook for them, and they love it," she said. "I cook any kind of vegetable, and any kind of meat or fish. One of my favorites is a whole trout with lots of veggies and herbs. Everything is delicious."
While I was there, Gisela put some veggies into her tagine and put it on the stove: sweet potatoes, Brussels sprouts, mushrooms, carrots, cut into bite-sized pieces.
"You add no liquid," she explained. "Just layer the food with the densest on the bottom. You put the stove on very low heat and add water to the cup on the top of the tagine," she said. "It cooks from the condensation, when the hot air at the bottom rises and hits the cold water in the cup at the top. There's also a small hole for steam to escape."
Being Gisela, these holes were, of course, located in an anatomically correct spot on the cavorting dogs and horses.
By the time we'd finished talking, the food was cooked, about 20 minutes. Gisela removed the top, added a piece of salmon, then covered it back up. Five minutes later, I was eating some of the most delicious food I'd ever tasted.
You know what happened next. The red horse tagine came home with me, along with another one as a gift for a friend. I've been cooking in mine every day since then, and I can't get over how delicious everything tastes. I dice up a bunch of veggies and layer them in the tagine, stirring it once or twice, then add a piece of salmon for the last five minutes. Heaven!
Gisela only sells the tagines from her studio. She has lots to choose from, or you can commission one with a picture of your dog or horse or whatever. They cost $95, and a commissioned one would be $120 and take about two weeks. For more information, call Gisela at (561) 422-3037 or visit www.artbygisela.com.
You won't be sorry!