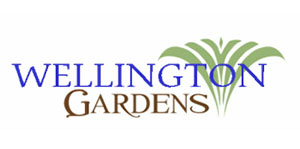 A botanical garden and "central park" area are part of a new concept designed to bring green space, family entertainment and a hotel to Wellington's vacant K-Park property on State Road 7.
Called "Wellington Gardens," the concept is the latest proposal for the 66-acre site located on the southwest corner of State Road 7 and Stribling Way, south of the Mall at Wellington Green. The proposal comes from Wellington resident Chuck Mineo, owner of Praxis Resources, a commercial real estate development company.
"I've always felt there were a couple of things Wellington was really missing," Mineo told the Town-Crier on Tuesday. "There is a lack of any form of good entertainment in the town, with nice dining options. Outdoor dining options are mostly on a narrow sidewalk overlooking a parking lot. We want to offer people in Wellington other options."
Though Mineo has discussed the proposal with Wellington Village Council members and staff, there will not be any official decisions until the council meets next week for its visioning session on Wednesday, May 4.
Since Wellington purchased the K-Park land in 2004, development of the site has been a controversial issue, with several plans falling through. Council members are scheduled to discuss next week what they'd like to see on the site.
"The meetings have been encouraging," Mineo said. "The only part that has been difficult from our perspective is the waiting."
The Wellington Gardens concept combines outdoor spaces, dining and entertainment for what Mineo says would be a "town center" concept that could be a gathering place for families. Plans for the site also include a hotel and multifamily and/or senior housing, which would be integrated into the site.
"We came up with the idea of a central park," he said. "On the site, there is 10 acres of water retention we have to do anyway. We want to do great landscaping and buffers, so we said, 'Why not do a botanical garden?'"
About one-third of the site would be dedicated to green space, with 18 acres of tropical botanical gardens and a 4-acre central park, which would be open green space. There would also be children's play areas.
"There has been a ton of research on the benefits of city parks and botanical gardens for local residents," Mineo said. "There are health benefits, mental health benefits and environmental benefits. The main thing we want to do is focus on families. That's what Wellington is all about."
Hoping to create a new identity for Wellington's eastern corridor, Mineo said his proposal would add to the community, not compete with existing businesses.
"It won't be so much about shopping," he said. "It will be more about entertainment and what you can go and experience. I don't see this as competitive; I see it as a complement. People will come and stay in the area, whether they're seeing a movie or going to the mall. It would enhance what Wellington already has. People wouldn't have to drive to the city to get these amenities. This would contribute to a better lifestyle for Wellington residents. We don't have a place where everyone in the community can just go and socialize."
One of the major draws to the site would be Frank Theatres CineBowl & Grille, a combination movie theater, bowling alley and restaurant. Mineo said he also spoke to a miniature golf company that showed interest in the site.
"We have a couple of tenants who want to be in the Wellington market," he said. "Frank's is a new concept that's in the West Delray Marketplace. It's very family-friendly. It has got 10 auditoriums and 20 lanes of bowling, all under one roof and one facility."
The space would also have about four restaurants with outdoor seating.
"Guests would be able to look out on that central park," he said. "The central park would be four acres of open space, which is roughly the interior area of Mizner Park in Boca Raton. But instead of traffic, it would be all green space."
Wellington Gardens would attract families with its variety of activities all one site, Mineo said. "In a place like this, parents have the opportunity to say to their kids, 'You go do this; we'll go do this.' The kids can be playing in the park while the parents are having dinner on the outdoor patio where they can watch them. Teenagers can go bowling or to the movies."
This is in line with more modern commercial spaces, Mineo said.
"We believe people's habits, needs and wants have somewhat changed," he said. "A lot of people are not so interested in going out to shop and come back with a big bag of goods. They want to go out and have a nice time and experience."
In addition to a hotel, which would be integrated into the space, Mineo said he has been approached to include senior housing on the site. "Nothing blends better than having a botanical garden where seniors would have the opportunity to get out and enjoy their surroundings," he said. "I think it's a great idea."
Although the proposal is largely dependent on what the council envisions for K-Park, Mineo said he is optimistic. "I think I have the support of the community," he said.
Currently, Mineo is collecting survey responses to the concept online at www.wellingtongardens.net, which provides more information about the proposal. He said so far, responses have been favorable.
"About 320 people took the time to do the survey, and more than 90 percent have been very favorable," he said.
Residents can visit the site for more information, or to contribute to the survey.