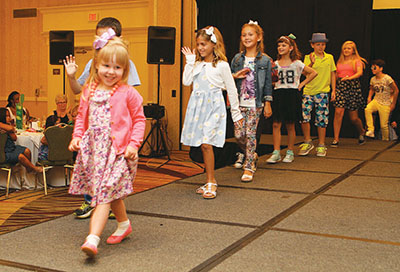 The Arthritis Foundation's 17th annual Magic of Caring Children's Fashion Show, featuring children who have arthritis as models, was held last month at the Palm Beach Gardens Marriott. This event, which raised $50,000 to benefit children with arthritis, allows kids who live with daily pain to shine in the spotlight while spreading the word that, "Kids Get Arthritis, Too."
Nearly 200 attendees enjoyed lunch, preceded by a fabulous silent auction. Shawna Lamb shared her story about living with arthritis and about having a child with arthritis. Pediatric rheumatologist Dr. Steven Goodman was honored for his continued support and dedication to children with juvenile arthritis.
Following the luncheon, Emerson Lotzia, sports anchor/reporter or ESPN West Palm Beach, WPTV/Fox 29, served as master of ceremonies for the fashion show, featuring fashions from H&M department store. A total of 16 models, between the ages of 3 and 16, strutted their stuff on the runway and were surprised by the news from David Donten that they could keep their outfits, compliments of the C. Kenneth and Laura Baxter Foundation.
"To see the smiles on their faces, makes the time and effort of planning this event all worthwhile," Event Chair Cheryl Cummings said.
Proceeds will support research aimed at discovering a cure for juvenile arthritis, and help to send children with arthritis to one of three special summer camps in Florida.
Event sponsors included: the C. Kenneth & Laura Baxter Foundation, Arthritis Associates of South Florida, Doreen and Steven Goodman, Genentech, Florida Crystals, Mark and Lisa Delevie, Delray MRI, Toshiba Business Solutions, Arthritis & Rheumatology Associates of Palm Beach, Davinci Radiology Group, Dr. Michael Roseff, Doctors Carrie and Charlton Stucken, Dr. and Mrs. Howard Busch and Philip Whitacre. Committee members were: Andrea Abramowitz, Rose Marie Boyle, Kelly Ferraiolo, Terry Gearing, Justin Grandic, Shawna Lamb, Christine Pitts, Margaret Rath, Patricia Rath and Sarah Salvador.
For additional information, call (561) 833-1133 or e-mail srhodes@arthritis.org.
ABOVE: Models Gabrielle Ferraiolo, Ethan Abramowitz, Ava Obeso, Casey Trotter, Leeah Rath, Hudson Domb, Bailey Zajc and Lauren Andres strut their stuff.