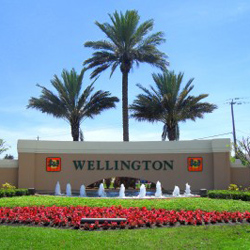 Tying the expansion of Wellington's bridle trails to a land use change for the Palm Beach Equine Sports Complex divided the Wellington Village Council on Tuesday.
Council members voted 3-2 to approve an ordinance that would designate the complex as a commercial recreational site, allowing it to expand its veterinary practice.
Councilman Matt Willhite and Vice Mayor John Greene dissented, wanting instead to place requirements on owner Dr. Scott Swerdlin to provide land for a connection into Wellington's bridle trail system. "I cannot support this motion, not because of the applicant, but because I'm trying to do something for the benefit of Wellington," Willhite said.
The roughly 12-acre site, located at the southwest corner of Pierson and Southfields roads, is home to the Palm Beach Equine veterinary clinic, which has been trying to expand for several years but has been limited by its land use description.
The clinic was built long before Wellington was incorporated, and its site was designated as residential use. By passing the comprehensive plan amendment, the site would be designated commercial recreation and would then conform.
Jon Schmidt, agent for the applicant, said the request for the change would be for a small expansion in the future for some additional recovery stalls.
"If the clinic were to be destroyed, he couldn't even rebuild it under its current land use," Schmidt said.
Greene asked whether the change would settle the issue. "Will this clean this thing up once and for all?" he asked.
Planning & Development Services Director Tim Stillings said it would.
Willhite asked about the expansion. Swerdlin said it would be about 12 stalls for isolation and recovery.
"That's one of the reasons we're here tonight, so we can build what we need to build to do the job we need to do," Swerdlin said. "But we couldn't build it because we're a nonconforming use."
Recently, Wellington has begun a push to link its bridle trails throughout the village. Willhite called the Palm Beach Equine property a "missing link."
"I feel as though this is one of the missing links in the continuance of bridle paths around the village," he said. "We've made serious investments in our bridle paths. Your parcel, unfortunately, doesn't allow us to have a dedicated bridle path."
He asked Swerdlin to commit to putting a bridle path on the site plan for the property when it comes back to the council.
"This is one of our busiest areas," Willhite said. "Many of the horses that support our show grounds come from your barns. We keep talking about the crossing at Pierson [Road] and South Shore [Blvd.]; that traffic comes from your barn."
Swerdlin said he has tried to address the issue with Wellington.
"I went to the HOA, because we had the bridle path we could add to the front of the property, we'd just have to move the road over 15 feet," he said.
He noted that the properties around him have also not hooked into the bridle trail. "Maybe that's something you can help with," Swerdlin said.
Willhite said he has been working with nearby Deeridge Farm to provide connectivity.
"I've been working for over two years to get 15 feet or so to get a dedicated bridle path," he said. "We've also been working with Grand Prix Village to get some trails in there."
Swerdlin said he was amenable to the idea, and Willhite asked whether it could be made a condition of approval.
But Village Attorney Laurie Cohen recommended against that. "I would recommend against tying that sort of condition to this," she said. "You do have broad discretion, but I don't think that would be an appropriate condition to tie to this."
Willhite asked Village Manager Paul Schofield for his input. Schofield said that although typically conditions are not added to comprehensive plan amendments, it has been done in the past. "We generally don't do them, but it's certainly within your purview to do," he said.
Willhite asked whether the council could require the site plan come back, and Schofield said it could, though it was only required with a master plan amendment.
Councilman Howard Coates made a motion to approve the ordinance as is, without the conditions. "I don't think it's appropriate to impose that sort of condition," he said. "I think this stands on its own."
But Greene said he would like to see it come back. "I don't want to put an unfair burden on you, but I would like to see this come back," he said.
Councilwoman Anne Gerwig said she thought this was a political decision.
"We have a set of rules to follow," she said. "This applicant is doing that. I don't see why we would change our rules based on whether we like someone politically or we don't. I think we make it very difficult for the people who live here when we change the rules based on the circumstances."
But Willhite and Greene said it wasn't political. "A number of people are concerned about this particular parcel," Greene said. "I want to help you accomplish what you want to accomplish, but I want to see this come back."
Schmidt suggested that between first reading and second reading, he could draft potential solutions to the issue. Swerdlin said he was on board with Willhite's proposal but noted that he was just taking the first step to sorting the issues out.
"We're all on the same page here, Mr. Willhite," Swerdlin said. "We're just here to get into compliance. You have to get this done to get that done."
Mayor Bob Margolis, who was the deciding vote, said he was willing to approve the ordinance for transmittal.
"There are some things here that I think are out of your control," he said. "I trust staff, and I trust that you'll sort it out in the next 30 to 45 days. I'm comfortable supporting this on first reading."
The measure passed 3-2. The changes now go to the state for approval before returning for final adoption.