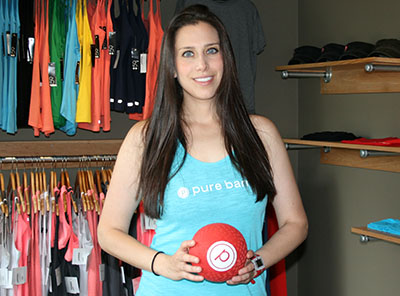 Melissa Hirsch is not your typical business owner. Rather than staying in her office, she frequently teaches classes at her Pure Barre locations, three of which are currently open with another opening soon.
About three and a half years ago, while she was in law school, the Pure Barre exercise routine was recommended to Hirsch, who decided to give it a try. "I instantaneously fell in love with it," she recalled. "I've always been an active person. I played competitive soccer for many years. I was a cyclist and a certified as a swim instructor, but barre was something I had never done. I walked in, and after the first class, I was hooked."
A lawyer by trade, Hirsch, licensed in New Jersey and Pennsylvania, is stepping back from practicing law to focus on her business enterprise — Pure Barre.
"I love this company," she said. "I love everything about it. This organization is a group of strong women who are well-educated and business-savvy. I was a former client. I think it is branded brilliantly. It is a positive community. There is a great culture within the company, not only locally, but nationally. We have 200 studios in 38 states."
Pure Barre, a franchise that began in 2009, has developed quite a following.
"Pure Barre is a full-body workout that combines elements of Pilates and ballet, utilizing small isometric movements at the ballet barre," Hirsch said. "So, you're working your muscles, and then immediately stretching them out."
The isometric movements mean that the activity is low-impact, easy on the body and great for the joints. There is not any jumping or bouncing, which makes Pure Barre a great activity for those who need strengthening or those who are going through rehabilitation for an injury.
The 55-minute class is scheduled daily, with sessions in the morning, noon and at night, to make it easy and convenient to fit into a busy schedule.
"I truly appreciate every section of class," Hirsch said, "because I know each section is benefiting me in some way. My favorite is the class as a whole because each section is really a challenge, and it works something different."
Hirsch said that there are people of all shapes, sizes and fitness levels who attend classes, and even if you are a beginner to exercise or Pure Barre, each time you come, you will get stronger. Class participants are a diverse group, ranging from high school students, new mothers and young professionals to seniors, and both men and women attend. "As long as you can hold on to a ballet barre, there is no reason you can't do Pure Barre," she said.
The name Pure Barre conjures up images of a ballet studio, which is exactly what you see upon entering a Pure Barre location.
At the Wellington studio, there is a check-in desk to the right of the entrance, cheerful workout gear to the left and then the studio. The left side has mirrors along the wall.
The Wellington community, Hirsch said, has embraced Pure Barre. "We've been really fortunate to have a lot of great clients, and been fortunate enough to bring Pure Barre to the community and educate people," she said.
Among the reasons, Hirsch said, is that people see results quickly with Pure Barre, often within 10 classes. Seeing such quick results is rewarding and encouraging, which keeps people motivated and coming back for more, she added.
Second, it is not just a workout; it is a lifestyle. The studio serves as a community, where people come in and talk. Friendships emerge from the studio. The studios have a boutique feel, where the mind-body connection is nurtured, the experience is positive and the location is clean and friendly.
Pure Barre suggests that participants arrive 10 to 15 minutes early for class, toting a bottle of water and wearing sticky socks. For most classes, participants will pick up a set of light weights, a ball and a stretchy tube. Instructors bring out mats in the middle of class.
Hirsch has been extremely busy. Her West Palm Beach studio opened in February, followed shortly thereafter by the Wellington studio in April and the Jupiter studio in May. The Palm Beach Gardens studio will open in June.
The Wellington location is in Wellington Town Square at 11924 W. Forest Hill Blvd., Suite 22. To learn about Pure Barre, visit www.purebarre.com/fl-wellington or visit its Facebook page at www.facebook.com/PureBarreWellington.
ABOVE: Pure Barre owner Melissa Hirsch.