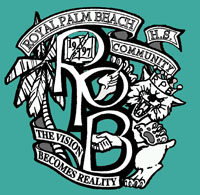 Although Royal Palm Beach High School is on the Palm Beach County School District's capacity watch list, school district officials told Royal Palm Beach Village Council members last week that there will be no boundary changes for at least the next two years.
The topic had come up at the council's previous meeting, prompted by news last month that boundary changes could be in store to reduce capacities at some schools.
RPBHS was one the high schools said to be over capacity, according to Councilman Jeff Hmara, who invited the school district officials to make a report at the May 1 council meeting.
School Board Member Marcia Andrews introduced Director of Planning & Real Estate Services Kristin Garrison, whose responsibilities include school boundaries.
Garrison said the April news came about as a result of a capacity watch list that has been incorporated by the district.
"This is something that is new this past year," she said. "Our school board wanted to get early warnings out in the community, not necessarily that boundary changes were imminent, but that due to current enrollment projections, there is a possibility that boundary changes might be on the five-year horizon."
While that remains the case for RPBHS, Garrison stressed that boundary changes are not imminent.
"I will tell you that despite the fact that Royal Palm Beach High School is on the watch list, I assure you that we have no boundary changes anticipated for the coming year or for the following year," she said.
Garrison said the capacity watch list is based on state formulas that the district is required to use.
"At Royal Palm Beach High School, we have some additional classrooms that are available for school use that do not count toward capacity, so the really important measure is whether the school can meet class-size reduction," she said.
Currently, RPBHS is not in jeopardy of missing those benchmarks.
"I know through discussions with the principal, and looking at the projections, that you have ample seats not only for projected enrollments, not only for increases in your four existing choice academies at the high school, but also additional seats for the future International Baccalaureate program," Garrison said. "So we do not see at this point, absent some unforeseen development, the need for a boundary change in the near future."
Councilman Fred Pinto asked Garrison whether she had data on the number of students coming into the RPBHS from outside the community, and she said she did not, although it has been documented at other schools.
"It's very common at high schools, because we offer such a wide range of choices. It's fairly common for about a third of the high school population to be attending a school elsewhere," she said, explaining that more than 900 students within the Royal Palm Beach boundary attend magnet programs at other schools.
Pinto said his question was based on a concern the council had several years ago about the mix of students at RPBHS from outside the village's boundaries, although they were within the school district's boundaries. Issues were also raised about parents sending their high-school-age children to other schools.
"It was a dual problem," Pinto said. "We had many students whose parents were choosing not to send their kids to Royal Palm Beach High School, but our fine principal has really gotten his arms around that issue, and we're getting that arrow back in the right direction. The other one was more to do with the way that the boundaries had been set several years ago, which we were very unhappy with. That was really done without our cognizance of what happened, so I'm just asking for an update of where we are now."
Garrison noted that the school district boundaries do not coincide with municipal boundaries.
"I do recall this very well, the discussions seven or eight years ago following the boundary change that was done to fill the new Seminole Ridge High School," she said. "When you open a new school, you have to bring in students from overcrowded schools. Back then, Royal Palm Beach High School was overcrowded, much more so than now."
The solution back then involved RPBHS, Palm Beach Central High School and Palm Beach Lakes High School.
"I think your council members voiced their concern about the students from outside Royal Palm Beach municipal limits that previously went to Palm Beach Lakes, then to Palm Beach Central, and we moved them into Royal Palm Beach High School because you had room," Garrison said. "We will definitely make sure that we let you know well ahead of time, especially since we have this capacity watch list now, so that you can be involved from the very beginning."
She added that there will be numerous opportunities for public input.
Hmara said he was aware of concerns by the public that they do not have sufficient opportunities for input and thanked Garrison for the information she provided on the district's process for assessing and changing school boundaries.
"What's really important is to make sure that we understand where and when there is an opportunity for us either as members of the public, or members of the council, to weigh in on these deliberations, which I understand actually take place about two years before the school year in which any change would actually take place," Hmara said.
Hmara said he recognized that municipal boundaries and school boundaries are not the same. "But we do have an interest in trying to be as representative and consistent with the community in which we live, in which our high school is located and where our kids hopefully are being educated," he said.
He echoed Pinto's appreciation for RPBHS Principal Jesus Armas and his efforts to attract more local students to the school.