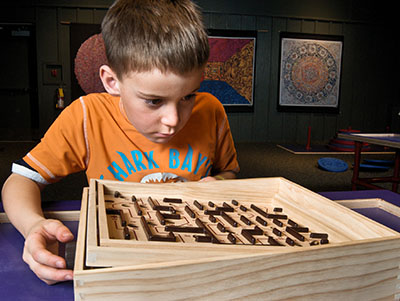 Twists and turns will help visitors learn at the South Florida Science Center & Aquarium's newest traveling exhibit, "Mazes." Opening to the public on the evening of Saturday, May 3, the exhibit will lead guests on an adventure through a series of interactive brain-teasers, 3-D puzzles and full body games. On display through Sept. 14, the exhibit is sure to "amaze" all summer long.
"Mazes" winds its way over 9,000 square feet, with more than 60 puzzling experiences that inspire endless hours of exploration and ingenuity. Visitors will have the opportunity to run a marathon with their fingers on the Finger Mazes, become a "webmaster" by climbing through an intricate web of ropes in the Web Maze, get lost in a network of color in the Color Maze and conquer puzzling perplexities in the Maze of Illusions, where what you see may not be what you get.
"This is quite possibly the most interactive exhibit we have ever hosted," South Florida Science Center CEO Lew Crampton said. "Themed mazes are powerful kinesthetic learning tools. This is hands-on, minds-on science at its best, and we know that the exhibit will create a memorable experience for our visitors — one that is both entertaining and educational."
"Mazes" aims to encourage guests to explore new ways of problem-solving, challenge the relationship between the mind and the eye, nurture creativity and serve as a bridge between multi-generational boundaries, as the exhibit is fun and challenging for all ages. And if you think you have learned enough about mazes after experiencing the puzzles for yourself, the exhibit will offer visitors an opportunity to build their own maze.
To celebrate the grand opening of the exhibit, the Science Center will host Food Truck Fusion, a food truck event, on Saturday, May 3 from 5 p.m. to 8 p.m. In addition to exploring "Mazes," guests will have the opportunity to explore local food vendors offering delicious menu items such as mouth-watering burgers, tacos, pizza, cupcakes, ice cream and more. The celebration will also feature live music and activities for the entire family. Admission to the Science Center for the special grand-opening celebration will be reduced to $10 for adults and $7 for children ages 3 to 12. Science Center members can enjoy the special event for free.
During "Mazes," admission to the Science Center is $14 for adults, $10.50 for children ages 3 to 12 and $12.50 for seniors over the age of 62. Members can enjoy the exhibit for free.
The South Florida Science Center & Aquarium is located at 4801 Dreher Trail North in West Palm Beach and is open Monday through Friday from 9 a.m. to 5 p.m., and on Saturday and Sunday from 10 a.m. to 6 p.m. For more information, call (561) 832-1988 or visit www.sfsciencecenter.org.
ABOVE: A Science Center visitor tries out the Marble Balance Maze.