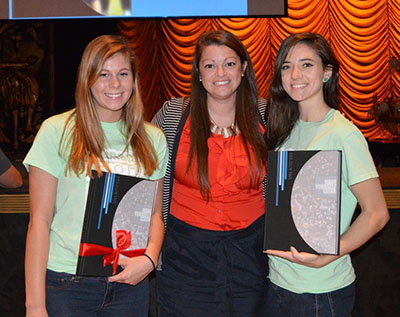 The King's Academy's high school yearbook program has been named a 2014 Jostens National Yearbook Program of Excellence. The National Yearbook Program of Excellence designation recognizes dynamic school yearbook programs. It recognizes yearbook staffs and advisers who create engaging yearbooks for their school communities.
TKA's award-winning yearbook program for this school year is led by Editor-in-Chief Michela Diddle, a senior, under the direction of yearbook advisor Teresa Blakeney.
"This was a surprise because I didn't even know this award existed, let alone that we were eligible," Diddle said. "It is definitely by the grace of God that we met every deadline, as well as the other criteria needed to be one of the 200 schools to achieve this award."
Jostens' National Yearbook Program of Excellence Awards are presented twice a year, in May for yearbooks delivered in the spring and in September for yearbooks delivered in the fall. The award was presented to TKA's yearbook program for achieving the defined criteria in each of three following categories: creating an inclusive yearbook, generating school engagement and successfully managing the yearbook creation process.
"We are tremendously blessed to receive this honor this year," Blakeney said. "This yearbook staff was young and inexperienced, but talented and determined to produce the very best yearbook possible. I couldn't have hand-picked a better team."
The yearbook program will receive a plaque to display in the yearbook area and a banner to display in school, so the entire school community will be aware of the outstanding achievement.
ABOVE: Co- Editor Rachel Spell, Jostens Representative Julie Maddaleni and Editor-In-Chief Michela Diddle.