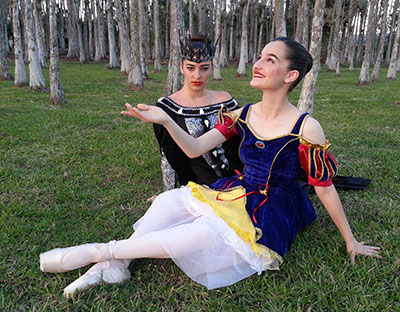 Wellington Ballet Theatre is excited to present an original interpretation of Snow White this month. There will be performances at the Crest Theatre in Delray Beach on Sunday, May 4 and at the Wellington High School auditorium on Saturday, May 10.
With artistic direction by Rocky and Dorie Duvall, the company will perform an original ballet of the classic Snow White featuring the dancers of Wellington Ballet Theatre. Snow White is a non-traditional modern ballet based on the classic fairy tale penned by the Brothers Grimm and popularized by the Walt Disney classic animated feature.
The local production features choreography by Melissa Waters and will be perfect entertainment for the whole family. The experience will be magical, and young children are both invited and encouraged to attend.
Wellington Ballet Theatre, a member of the Cultural Council of Palm Beach County, is grateful to its sponsors for supporting the show: the Village of Wellington, Dance Arts Conservatory, Arrigo Fiat of West Palm and Sawgrass, the Wellington Preservation Coalition, Seasons Women's Care, the Pediatric Center, Symons Family Chiropractic, Lunsford Dentistry, Ballibay Camps, and Cocuy, Burns & Company.
The show at the Crest Theatre in Delray Beach's Old School Square will be on Sunday, May 4 at 5 p.m. Tickets to the Crest show can be purchased by accessing the link at www.wellingtonballettheatre.org or calling the box office at (561) 243-7922.
Wellington High School auditorium performances will be at 2 p.m. and 7 p.m. on Saturday, May 10. Tickets for these shows must be purchased online by following the link at the web site. All shows are assigned seating, and tickets range from $12 to $30.
Building on last year's success, Wellington Ballet Theatre's summer production will be Ballet Off Broadway – Part II, an innovative performance showcasing Broadway blockbusters through the art of contemporary, modern and ballet dance. Auditions will be held on Saturday, June 7 at 3:30 p.m. for 5 to 8 year olds and 4:30 p.m. for ages 8 and up, including adult dancers; dancers en pointe are encouraged to bring their pointe shoes. Auditions will be held at 11260 Fortune Circle, Suite J-1, in Wellington. Call Company Manager Randy Ballen at (561) 296-1880 or e-mail info@wellingtonballettheatre.org for more info.
Wellington Ballet Theatre is a performing company and school of ballet registered as a not-for-profit and charitable organization, dedicated to promoting and preserving the dance arts. It provides a cultural experience by dancing historical and classical ballets as well as original and innovative choreographies. The auditions, workshops, master classes and dance demonstrations are open to all members of the dance community, providing an outlet for all students of artistic merit to express themselves and learn more about classical dance as an art form.
Wellington Ballet Theatre is always accepting charitable gifts and will be happy to provide tax-deductible receipts. Wellington Ballet Theatre is available for black-tie performance events and other fundraiser entertainment opportunities. For more info., visit www.wellingtonballettheatre.org or call (561) 296-1880.
ABOVE: The Queen and Snow White from Wellington Ballet Theatre's upcoming show.