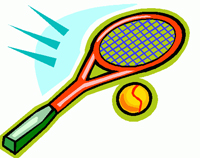 Tommy Cheatham will continued to serve as Wellington's tennis provider for at least another year after members of the Wellington Village Council voted Tuesday to extend his contract.
But with the Wellington Tennis Center being moved to a new Lyons Road location, council members agreed to rebid the contract in the future. Council members voted unanimously to extend Cheatham's contract to the opening of the new facility on a month-to-month basis.
"This contract extension will get us to the point where we will be occupying and operating out of the new facility," Director of Operations Jim Barnes told council members.
He noted that Cheatham Inc.'s contract with Wellington will expire by then.
A one-year contract with Cheatham Inc. was approved in 2009, which specified four optional renewals. Council members had to approve each renewal by June 1 of each year. This is the final renewal allowed under the contract, which means the village will have to take bids for the tennis program, even if it continues to use Cheatham as a provider.
"As we get closer, we will look at whether we want to have the new operator in place, and have them take over at the time of occupancy," Barnes said.
The new tennis center is scheduled to open in May 2015.
Councilman Matt Willhite said that since Wellington has a timeline, village staff should plan accordingly.
"Whether we stick with the current operator or have a change, it would be best to do a [request for proposals] ahead of time," he said. "Then, the day the facility opens, whoever is the operator would be the one who starts it. They can put things in place the way they want it."
Barnes said the only possible concern would be getting residents to sign up for programs should the operator change.
"There may be issues with registration for upcoming programs, but if we know ahead of time, we can let residents know we won't be taking registration until after a certain date," he said.
Willhite said he didn't want any confusion for players. "I don't want a misunderstanding," he said. "Day one, I think everything should be in place and the operator can start that day."
Barnes said that was possible. "That's our plan, and I don't foresee having any problems achieving that," he said.
As part of the contract extension, Cheatham Inc. underwent an audit by Village Auditor James Pogue. He found that Cheatham has been compliant with the contract, but he issued a few recommendations.
Pogue suggested that Cheatham maintain a list of all employees and vendors, along with the date of their most recent background screenings.
Secondly, he requested that tennis center staff provide an annual schedule for tournaments prior to Oct. 1, and also have a list of monthly maintenance tasks and the times they are completed.
Pogue also clarified some issues with the quarterly reporting, which had been provided based on a different accounting cycle than Wellington's. The village received $5,732.47 in repayment.
Councilman Howard Coates asked about the salary paid to "the officer" as written in the contract.
"What is the salary breakdown for that $152,000?" he asked.
Pogue said that money goes to Cheatham. "He's the officer for that $152,000," he said.
Coates said he was concerned about that. "My recollection from a number of years ago is when I asked about what his share was, the number was something between $90,000 and $92,000," he said. "That's a significant increase over the last couple of years. Have we been tracking that? I know it's not a net income, but it's a significant amount."
Pogue said according to tax returns, in 2011, Cheatham made $118,000, and that in 2012, it was $154,000.
Willhite asked whether the contract had been amended to allow for month-to-month operation. Barnes said it had.
"We didn't want the extension to be tied to a time frame, but to when we open the new facility," Barnes said. "We spoke with Mr. Cheatham, and he agreed to it. It was fine to do within the confines of the original agreement."
Village Clerk Awilda Rodriguez said that each time the contract was renewed, staff has prepared amendments to the original contract.
"We have included the language that any time prior to May 1, we may cancel this contract," she said. "Knowing that the facility should open sometime around May 1, we included that language, which does give us the flexibility to cancel the contract at that time."
Vice Mayor John Greene asked whether there were any plans to consider operating the tennis center with staff, rather than an outside provider.
Barnes said it had not been done as part of the current contract renewal.
"But we have done that on a regular basis since I've been involved with the project," he said. "At this point, we can tell you we've had just about every delivery method for this service from an employee… to the current version we have now, and this is the smallest out-of-pocket expenditure the village has made to date."
Greene was also concerned about Cheatham's compensation.
"I'm not going to say he's underpaid or overpaid, but we're going to get questions about him getting a lot of money for those contract services," he said. "I just want to make sure we're doing our due diligence."
Councilwoman Anne Gerwig asked if there was an explanation for why Cheatham has made such a large amount of money while Wellington has paid the least out-of-pocket of any year.
"Is it just more successful?" she asked.
Barnes said the program is successful, but also noted that the operator is responsible for how much revenue they make.
"There's a greater incentive to bring that in," he said. "It's a Catch-22. We want to see the lowest out-of-pocket expense, which we are seeing right now, versus their incentive to be able to handle the volume out there. It's in Mr. Cheatham's best interest to deliver a good product and deliver a lot of it."
Coates said that for future contract bids, he wants Wellington to look at how it can maximize revenue from its tennis program.
"When you look at the resources we're providing, the capital, the physical plant of the tennis courts themselves … I've said from the beginning, this is the sweetest sweetheart deal you can get," he said. "It's private enterprise having the government give them the office, all the equipment and [maintenance], and they don't have to pay us a thing."
Although he's glad the program is doing well, Coates said he thinks some of the money should be coming back to Wellington.
"For four years now, I've had trouble justifying that arrangement," he said. "I don't want to just hear from people about how we can minimize our [costs], but tell us how we can maximize this resource."
Mayor Bob Margolis asked staff to survey other tennis facilities to examine their business models.
"In anticipation of having a new facility come on line, I think we owe it to taxpayers to see if another model could work," he said.
Coates made a motion to approve the contract extension, which passed unanimously.