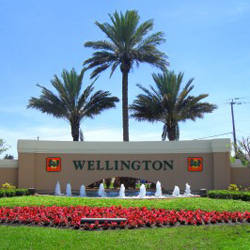 The Village of Wellington will once again consider proposals for its K-Park property. Council members voted Wednesday as part of their "visioning session" to put out a request for proposals for the site.
The 66-acre site on the southwest corner of State Road 7 and Stribling Way has long been a point of contention, with past councils arguing about what, if anything, ultimately should be built on the site.
Past proposals have included a college campus, a research park and a horse park, none of which materialized. Now, the village is temporarily renting out the site to an organic farm.
Growth Management Director Bob Basehart told council members that the proposed plans for a horse park on the site last year brought the attention of several other interested parties. "It has generated a significant amount of other offers," he said.
Two years ago, Wellington put out a similar request for proposals and received only one bid — a $7 million plan from ReInvent America LLC for a science and technology park, along with other uses. Comparatively, proponents of the horse park offered Wellington $10 million for the site.
Councilman Matt Willhite said earlier in the meeting that Wellington had been offered as much as $22 million for K-Park.
"We went from proposing $10 a year for the college to locate there to an offer of $22 million for it," he said. "Every city would be happy to be arguing about these kinds of issues."
Basehart said Wellington had several options: to leave the site as is, pick one of the several proposals, design a vision for the site and offer it to the development community, or put out another request for proposals.
"With the escalating value of the property, you could hang onto the land to see if the value grows," he said.
Among the current proposals is a similar plan from ReInvent America LLC with a research and development park, retail, entertainment, restaurants, a hotel and residential uses. Another plan would bring a recreation facility with baseball fields. A third proposal would be mixed-use "downtown-oriented" environment with office buildings, a hotel and residences. Finally, a fourth proposal would have a central pedestrian area mixed with a botanical garden, restaurants, a central park area, a theater and bowling alley, a hotel and residences.
"We talked to all of the people who submitted plans, especially those with residential components, and they indicated that they would comply and provide a senior housing solution," Basehart said. "In conjunction with mixed uses, we believe that would be a good thing."
Vice Mayor John Greene said Wellington needs to be careful in its consideration for K-Park.
"What are our long-term needs?" he asked. "This is the last piece of land we have to develop. I don't want this to just be a financial decision. With any offer, there is a big return on our investment. I want to see what fits our long-term needs."
Willhite pointed out that many of the proposals include residential components. "It seems like the residential space must be market-driven," he said. "It seems like the private industry is wanting to buy and develop, and we're getting what they think the market is dictating."
Although he supports some senior housing on the site, Willhite didn't want new retail to take away from existing retail spaces. "We were promised a bank, and we got a PDQ," he said of the neighboring commercial development. "It seems like it's hard to locate the things [developers] are targeting."
He also said he wanted to see a buffer between the existing homes to the west of the site.
Mayor Bob Margolis supported putting out another request for proposals.
"I think it would be important," he said. "And though I think we could dictate what we'd like to see on the property, there are people who do that for a living."
Councilwoman Anne Gerwig asked whether council members wanted to reserve some space for the village's recreational needs. "This is our last opportunity for open fields for play," she said.
Though some council members noted that Wellington has 10 acres behind the Hampton Inn for fields, Gerwig said that could also be developed in the future. "I don't want us to sell the entire thing down the road," she said.
When K-Park was originally purchased, it was with a public purpose in mind, Councilman Howard Coates said. "I'm hesitant to let it go for anything but a public purpose," he said.
Coates noted, however, that he could compromise if the funds from the purchase were used for a public good.
"The property itself might not be used for a public purpose, but the proceeds could be used to buy land that could then be used for a public purpose," he said.
K-Park is also Wellington's last opportunity for economic growth, Coates said. "I don't have a lot of hope for the medical arts," he said. "If we take the initiative, we can create an area that will have several hundred career-type jobs. This is the property. There is no other property left to do that."
He agreed with Margolis that a request for proposals should be open-ended. "Let's let the free market tell us what is driving it," Coates said.
Council members directed staff to draft the RFP.
On another topic, the council discussed possible sites Wellington could acquire for water management or growth.
Among the sites are 40 acres off Flying Cow Road, which could be a site for horse manure disposal.
"One of the problems in the equestrian community is horse waste," Village Manager Paul Schofield said. "The biggest problem getting it disposed of properly is the cost of transport."
Schofield said that waste haulers could dump the manure at the 40 acres and then those who utilize the manure could come pick it up. "It would be at no charge to us," he said. "We'd essentially have the operating costs of a transfer station."
A second site would bring 3,000 acres to the village for water management. Located near the Homeland community, Schofield said the property is owned by the South Florida Water Management District. "This allows us to solve a lot of [drainage] problems," he said.
Projects Manager Mike O'Dell said Wellington could offer the SFWMD to pay for the cost of a levy and a revised pump system, and use the site for water control.
A third site is the executive golf course at the Wanderers Club, which Schofield said could be a passive park and also provide equestrian uses.
"On the west side, closest to residents, it could be a passive park," he said. "On the eastern side, it would be things that would meet equestrian needs."
Schofield said Wellington staff would get appraisals on the properties and come back before the council.