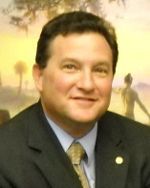 Palm Beach County staff and State Rep. Mark Pafford (D-District 86) gave a report on the recent legislative session at the Palm Beach County Commission meeting Tuesday, with a strong focus on education successes and shortcomings.
"Tallahassee is always quite interesting," Pafford said. "It's amazing what an election year can do to projects that have been good for four years, five years and have been vetoed previously. I think congratulations are in order for the county and the team from Palm Beach County that worked so hard and diligently over the last number of years, and this year saw some evidence of improvement in the governor's mansion."
Successes include the allocation of $6 million to start work on the Palm Beach State College campus in Loxahatchee Groves. Money for the project had been approved by the legislature, but vetoed by the governor three times before.
Pafford added, however, that the legislature left a financial burden on Palm Beach County schools that it has carried for several years.
"The school system is ravaged with financial issues. They don't get enough dollars from the state, to be blunt, and we saw evidence of that recently, when many of our members were urged to vote against the budget, not because there weren't great things in the budget, but because somebody needs to take a stand and make sure Florida understands that people aren't so satisfied with the level of education in the state," Pafford said. "I was one of those members who voted against the budget for that reason, along with the lack of expanded healthcare."
Pafford said the Palm Beach County Legislative Delegation has worked in a nonpartisan manner to get legislation passed for Palm Beach County.
Commissioner Shelley Vana, who previously served in the state legislature, said she is proud of the work the legislative delegation and county staff do, but pointed out that of the $36 million increase in school financing, the bulk went to charter schools.
"To have this horrific 1.78 percent increase over the prior year, and most of that going to charter schools, is beyond the pale," Vana said. "Parents and teachers and people who care about kids should be paying attention to this because the fabric of what we are as a nation is at stake here, and it's a tragedy."
She also pointed out that there is no place in the county or state to go for someone who needs rehabilitation or has mental disabilities.
"I would like to talk to you about that, so maybe we can figure out what to do, because we are just making people's lives miserable here," Vana said, adding that stronger gun control is also necessary. "We've got to take care of someone's mental health issues or we have to take care of guns. We need to do both, probably."
Commissioner Paulette Burdick agreed that school financing still falls short, despite the increase. She pointed out that $75 million for maintenance and renovation has been allocated to 600 charter schools, while only $45 million is going to 3,500 public schools.
"The intent of the original charter school legislation does not meet these needs," Burdick said. "The public school funding was supposed to be equitable. This was a cornerstone year where the legislature changed the formula and now provides more money to the maintenance and renovation of charter schools than it does to our own public schools. It's shameful. I hope our parents and educators rise to the occasion and let them know how unacceptable that is."
Governmental Affairs Coordinator Todd Bonlarron thanked members of the legislative delegation, including Pafford and State Rep. Pat Rooney (R-District 85), for allowing county legislative staff to use their offices during the past legislative session.
Bonlarron noted that Gov. Rick Scott signed the largest budget in Florida history on Monday, due to a $1.4 billion surplus in revenue, enabling the legislature to spend $77 billion, along with $500 million in tax relief measures, and put aside $3 billion in reserves. The budget is a $2.8 billion increase over the previous year.
More than $200 million in education increases were directed toward Palm Beach County, including $6 million for the new Palm Beach State College campus.
Health and human services received $17 million, which included $200,000 for the county's mental health and substance abuse program, $1 million for Alzheimer's care and $3.9 million for current county pay slots, plus another $1.6 million for an additional 200 pay slots.
In criminal justice, the county received $18 million for county initiatives and more than $70 million for construction of the Fourth District Court of Appeal courthouse.
The county received more than $100 million for transportation and $3 million in economic development funding for Scripps Florida. In the cultural arts, 25 county entities received amounts ranging from $25,000 to $500,000.
The county also had a successful year in agricultural and natural resources funding. The Florida Forever program received almost $60 million, Everglades restoration got $35 million, and the Indian River Lagoon and Okeechobee Basin took more than $20 million in funding.
Meanwhile, the county was able to block provisions of a bill that would have repealed the traffic light camera program.
Palm Beach County bills that were not successful included incentives for film and television centers, continuation of an enterprise zone program set to expire next year and a more favorable ratio for the county on juvenile detention costs.
Another top priority that received a lot of local attention was legislation to require sober home registration. It failed in the State Senate due to a $7 million fiscal impact. Legislative staff members said they plan to pursue passage of the bill again next year.
Two local bills sponsored by Pafford related to the Loxahatchee Groves Water Control District also passed. One formalized the existence of easements based on a 1918 agreement with Southern States Land & Timber Co., similar to previous legislation in 2011, to prepare for the transfer of ownership to the Town of Loxahatchee Groves. The second bill authorizes a similar transfer of canal easements to the town for recreational use of public trails.
Burdick added that there was discussion about conflicts of interest in the legislature, especially as they relate to charter schools, where the wife of the future speaker, State Rep. Richard Corcoran (R-District 37), owns a charter school, and the sister of State Rep. Erik Fresen (R-District 114), chairman of the House Education Appropriations Subcommittee, is vice president of a national charter school company.
"It goes on and on about members of our legislature who vote on charter school matters who clearly have a conflict of interest," Burdick said. "Locally, it would be a conflict of interest, but in Tallahassee, the rules are a little bit different, apparently."
Burdick asked the legislative delegation to address some of those issues in the next session.
Burdick also commented on the governor's veto of financing for the Treasure Coast Regional Planning Council, as he did the previous three years. "It's unfortunate, because it's important that we all look at growth and development in a regional manner," she said. "It puts significant impact on regional planning councils when there is no funding."
Commissioner Jess Santamaria said he particularly appreciated the $6 million for the Palm Beach State College campus in Loxahatchee Groves. "I guess the fourth attempt is the charm," Santamaria said. "At least we got it done, and we can move forward on that one, which is really needed in the central western area."
Santamaria said he also appreciated $1 million in funding to improve the potable water system in the Glades. "I'm sure we all realize we have a long way to go when it comes to that, so I hope your efforts there will continue," he said.
ABOVE: State Rep. Mark Pafford.