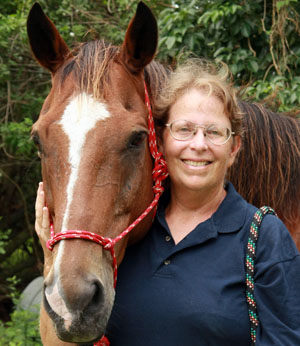 TALES FROM THE TRAILS
Courtney Kitching of Lake Worth is one lucky young lady and hoping for just a little more luck.
Last month, she graduated with honors from Palm Beach Central High School, carrying a 4.25 GPA. Indeed, she has been on the honor roll throughout her middle and high school years, excels in the choral top performance group, math and science clubs, and also completed 32 credits at Palm Beach State College, getting a jump on her college career. She'll be attending the University of Florida in Gainesville this fall, where she plans to study veterinary science.
But in her spare time, Kitching rides and competes her seven Quarter Horses. She's won at the National Barrel Horse Association (NBHA) Youth World Championships, NBHA state and world championships, the Florida Barrel Racing Association and World Pro Rodeo Association. This year, she decided to try something different.
"Since it was my senior year, this was my last chance to try competing in the National High School Rodeo Association," Kitching said. "And I'm really glad I did. The NHSRA rodeos have a different feel to them than other rodeos. They have a real family atmosphere, and all the kids feel like family. It's a great way to learn and develop new skills."
The NHSRA is an international, nonprofit organization dedicated to the development of sportsmanship, horsemanship and character through the sport of rodeo. It boasts over 10,500 members from 41 states, five Canadian provinces and Australia. The finals rodeo features more than 1,500 students and has become known as the "World's Largest Rodeo."
Kitching loves riding and good, healthy competition. She sets high goals and often succeeds.
"Throughout the year, I participated in four events with the NHSRA," she said. "I did barrel racing and goat tying with Nemo, my 6-year-old Quarter Horse, break away roping with Twinkie and pole bending with Rita."
Break away roping involves roping a calf, and goat tying is riding into the arena, hopping off the horse, catching a goat and hog-tying it. Kitching competed at high school rodeo events throughout the school year, showing every month and earning points toward the state finals, which were staged in Davie in May. She was one of the top 14, and qualified there to go on to nationals, which will take place in Rock Springs, Wyo., July 13-19.
"I decided to just compete in the finals in pole bending," Kitching said. "I'll be taking Rita, whose registered name is SFW Wonders Señorita. She's an 8-year-old palomino Quarter Horse. I've had her a year. I bought her to do barrels but found out she was better at pole bending. She's very agile and light on her feet."
Kitching and Rita will face some stiff competition at the finals. She'll be competing against a couple hundred other hopeful riders in her event, but she's not daunted.
"Maybe we'll win, but I'm going more for the experience," she said. "I've loved competing at the NHSRA shows. Getting to go to the state finals and now nationals is just icing on the cake. It has been a great ride this year, and it's ending on a good note."
If she manages to get there, that is. Driving a truck and horse trailer from Lake Worth to Wyoming takes a good three days and a lot of gas, plus there are all the show fees and other expenses: stall, feed, trailer hookup, etc. Kitching and her mother, Renee, will be leaving on July 9 and plan to stay at the show in Wyoming for the whole week. They could use some help.
"Really, anything anyone could donate would be appreciated," Kitching said.
"A lot of riders get their start at local horse clubs," said Alyce Michelbrink, president of the Palm Beach County Mounted Posse. "The advancements they made were often due to the generosity and sponsorship of others. We hope our community can come together to support this very deserving young lady to get to this once-in-a-lifetime event."
To complicate budgets further, Kitching will leave Wyoming and immediately head for Perry, Ga., for the NBHA Youth World, her last one, since she just turned 18.
"We're asking for your help to get Courtney to Wyoming by sponsoring her through either monetary donation, sponsor placement on trailer, truck and/or apparel, banner advertising, gas cards, feed, supplements or food cards," Michelbrink said. "She has worked so hard in everything she has ever done. This is one of the good ones and deserves any support you can give her."
Donations should be sent to PBCMP, Courtney's Show Club, P.O. Box 1056, Loxahatchee, FL 33470. Checks can be made out to Renee or Courtney Kitching.