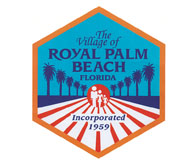 The Royal Palm Beach Village Council approved a $500 reward Thursday, June 5 for information leading to the identification of graffiti vandals at the village's skateboard park on Sweet Bay Lane near the Royal Palm Beach Recreation Center.
"We did get hit with graffiti out at the skate park, along with a village vehicle out at the recreation center about a month ago," Village Manager Ray Liggins said. "With the vehicle, the paint was fresh enough that we could get it off with paint remover and thinner without damaging the car, so we got lucky there. The rest of it, we repainted at the skate park and got as much of it as we could off the equipment there."
Liggins said someone is tagging many things throughout the county with the letters "FTP."
"That is what was done out there," Liggins said, adding that the Palm Beach County Sheriff's Office is investigating, but no one has been caught so far. "The good news is we did get out there pretty quickly and got it cleaned up."
Vice Mayor David Swift pointed out that in the past, the village has offered a reward for information leading to the conviction of graffiti vandals in the village, and council members indicated they would be willing to offer a $500 reward.
Mayor Matty Mattioli asked whether the PBSO had a graffiti wagon, and Liggins said it does. "Between the graffiti wagon and public works, they get everything pretty quickly," Liggins said.
Councilman Fred Pinto made a motion to approve the $500 reward, which carried unanimously.
The $100,000 park, approved by the council in 2012 and completed last October, was requested by local skateboarders, who petitioned the Royal Palm Beach Village Council for a place to skateboard freely, unharassed by shopping center owners or law enforcement.
The 15,000-square-foot skate park, which had been an underutilized roller hockey rink, was designed largely by the teenagers, who selected the type of ramps and obstacles they wanted.
Users of the park must register with the village. It is largely supervised by the skateboarders themselves.