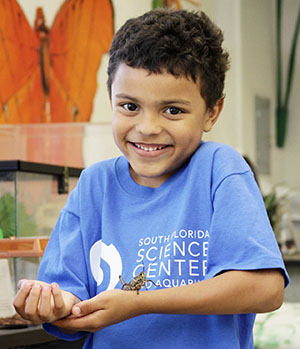 Small scientists need not travel too far for big returns in science exploration this summer. The South Florida Science Center & Aquarium has announced plans for its annual Science Summer Camp. Beginning on June 9 and offering 10 weeks of discovery, the camp is open to children ages 4 to 12, with each week offering a different theme. Taking place simultaneously to camp this summer is a new Robotics Boot Camp crash course, aimed at "Einsteins" ages 9 to 14.
Will drones really deliver packages to your home one day? Or will "Rosie" from the Jetsons be a common household commodity? According to computing pioneer Steve "Woz" Wozniak, robots are the wave of the future. In a recent visit to South Florida, he shared with the science center's loyal supporters that he envisions a future where robots are created to help humans.
"We are very enthusiastic about the creation of the new Robotics Boot Camp," Science Center CEO Lew Crampton said. "We know that the most lucrative future jobs are focused on science, technology, engineering and math, and you never know if exposure to science will get a kid excited about it as a career. Our camps are designed to 'open every mind to science' — all while having fun in a safe and educational environment where future engineers, marine scientists, CSI crime lab directors and even archeologists can experiment while developing their interests and talents."
Taking place the week of June 23, concurrently with regular camp programs, the Robotics Boot Camp will encourage teamwork, individual programming skills, problem solving and engineering. Open to children specifically ages 9 to 14, Robotics Boot Camp gives young engineers the opportunity to construct and program robots using Lego Mindstorms technology, while having tons of fun along the way. Campers will be encouraged to compete, challenge and smash their peers during this crash course in programming.
Science summer camp themes include Sea-fari; Mission Space; Construction Junction; Dino-Mite; Kitchen Chemistry; Operation: You; Mad Scientist; Up, Up & Away; and Science Stew. Each week features a different theme with hands-on science exploration. The days will fly-by as children assume the roles of astronaut, chef, paleontologist or oceanographer.
All campers will also have an opportunity to experience the facility's current exhibition, Mazes, which is on display through Sept. 14. The exhibition winds its way over 9,000 square feet with more than 60 puzzles, and leads guests on an adventure through a series of interactive brain-teasers, 3-D puzzles and full body games. In addition to Mazes, the science center features an 8,000-gallon fresh and saltwater aquarium with local and exotic marine life, a digital planetarium, conservation research station, Florida exhibit hall and an interactive Everglades exhibit.
Science summer camp is held Monday through Friday from 9 a.m. to 4 p.m. with extended hours of structured activities available from 7:30 a.m. to 5:30 p.m. for an additional $35 fee. The program is $210 for science center members and $235 for non-members per week, and Palm Beach County School District employees are eligible to receive a 20 percent discount. To register, visit www.sfsciencecenter.org/camp, e-mail programs@sfsciencecenter.org or call (561) 832-2026.
The South Florida Science Center & Aquarium is located at 4801 Dreher Trail North in West Palm Beach.
ABOVE: Camper Carl Duhaney makes a new friend.