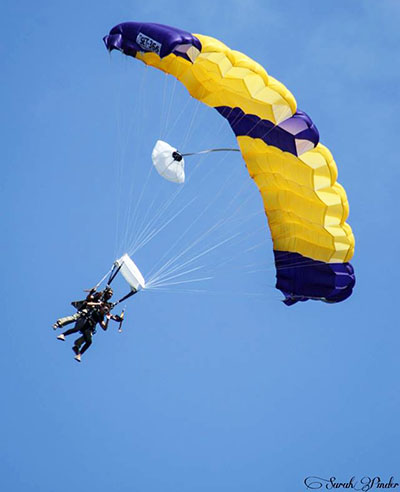 Cynthia Santiago, a member of Seminole Ridge High School's Class of 2014, is a three-time brain cancer survivor from The Acreage.
Santiago has a long bucket list of items she plans to conquer, and one of them was to skydive on her 18th birthday. Thanks to some amazing people from the Garden of Hope, Little Smiles and Skydive Palm Beach, she has crossed that one off her list.
Santiago is beating cancer and showing the world that the sky is the limit. Friends, family and supporters arrived bright and early on Sunday, April 27 without a cloud in the sky. Santiago was upbeat and patiently waited for the all-clear sign. Just before boarding the plane, Cynthia's father, Steve Santiago, was asked if he would like to join his daughter. He didn't even have to think about it. The two belted on their gear and headed into the plane.
The rest of the attendees watched nervously and full of excitement.
"The plane took off, and about 15 minutes later, we looked up to the sky, and there they came floating down to earth," said Tracy Newfield, founder of the Garden of Hope. "Cynthia was smiling from ear to ear."
Santiago's father noted the amazing feeling jumping with his daughter and being able to watch her up close and personal. The event took place at Skydive Palm Beach in Wellington. For more information, visit www.skydivepalmbeach.com.
Tracy Newfield and her daughter, Jessica, are the founders of the Garden of Hope. Jessica is also a brain cancer survivor. They both enjoy helping others who have been affected by cancer, and work toward touching lives throughout their community and beyond.
The Newfields partnered with Josh Daniels of Little Smiles to make the skydiving experience a reality for Santiago. Skydive Palm Beach also agreed to help make it happen. Tracy Newfield contacted Daniels, who travels South Florida helping children like Jessica and Cynthia fulfill a wish, and he agreed to help. For more information about Little Smiles, visit www.littlesmiles.org.
The Garden of Hope is a special place that will be located at Acreage Community Park for those who have been affected by cancer. The garden is part of the planned park expansion, hopefully due to break ground by the end of this year. The park will have an area, shaped like a ribbon, of bricks that can be purchased with an inscription, as well as shade trees and park benches. The Newfields have been hard at work on their project, working "to ignite and inspire support to those in need," by holding fundraisers, making care packages and delivering them to help brighten someone's day and help them get through a tough time in their lives. For more information, visit www.garden-of-hope.net or e-mail tracy@garden-of-hope.net.
Sarah Pinder, a Seminole Ridge graduate and up-and-coming photographer, donated her time and took some beautiful pictures of this special event. For more information, visit www.birdseyeview.cc.
Special thanks to all the sponsors for making one of Santiago's wishes come true.
ABOVE: Cynthia Santiago during her skydiving adventure.