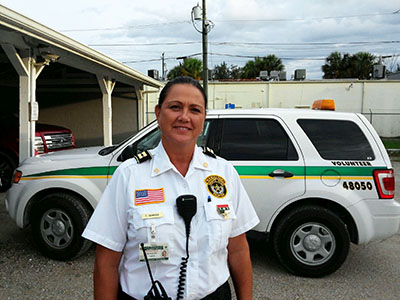 Sandra Love Semande, Citizen Observer Patrol (COP) captain for The Acreage, went to the Loxahatchee Groves Village Council meeting last week to call for new members.
"I'm here to recruit for the Palm Beach County Sheriff's Office Citizen Observer Patrol unit," Semande said. "You do not currently have a unit here, and one of our members is patrolling your area."
At the July 1 meeting, she asked council members if they would reach out to the PBSO's Volunteer Services Department and request a unit of their own.
"That means a new car, and I am willing to give you one of mine," Semande said. "If you can help me get more people to drive that vehicle to patrol your area, it would be of great service."
Semande added that having a COP unit would be a great help to PBSO District 15 Commander Lt. David Combs, whose area covers both Loxahatchee Groves and The Acreage.
"There's several opportunities in the COP unit," she said. "It's not just driving around in a car and observing. There is a dispatch unit, a marine patrol unit, a mounted unit, there's a bike unit, honor guard, administrative and more. There's a lot of opportunities for volunteers, and it's a very rewarding program."
Semande said she started her unit in 2009 with two members.
"We have nine now, and that's including the one that we have here," she said. "I have five others going through recruitment now, so those should be coming on board soon. It's very important that we get involved and help the sheriff's office, because they cannot cover everything, and The Acreage alone is 110 square miles."
The PBSO established the COP program in 1989, and it has grown to a cadre of thousands of volunteers serving as the "eyes and ears" for the PBSO. Volunteers also serve in administrative departments for jobs including vehicle maintenance, the crime lab and assisting detectives.
The program has more than 80 individual COP units in neighborhoods throughout the county.
Semande also complimented the Loxahatchee Groves Community Emergency Response Team (CERT).
"I have learned so much from your team, and I am very blessed to be included in some of its training," she said, adding that she also started the CERT in The Acreage, which is now up to 30 members. "That was part of my interaction with your team, getting me motivated to get them motivated out in The Acreage."
She noted that another CERT class was due to start July 8 at Palm Beach State College. It meets every Tuesday and Thursday for four weeks.
"We are the ones who will get to you first before the PBSO and Palm Beach County Fire-Rescue are able to get out here," Semande said. "It's very important to have people involved in that unit as well."
The council agreed by consensus to send a letter to PBSO Volunteer Services asking to start a Loxahatchee Groves COP unit. For more information becoming part of the COP program, call (561) 433-2003.
ABOVE: Sandra Love Semande, Citizen Observer Patrol (COP) captain for The Acreage, wants to expand the program into Loxahatchee Groves.