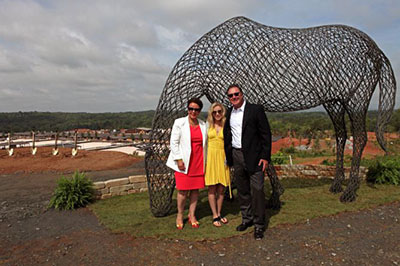 Wellington resident Mark Bellissimo, managing partner of Tryon Equestrian Partners, recently announced plans to create "a significant equestrian lifestyle destination" in the foothills of North Carolina's Blue Ridge Mountains.
Bellissimo has teamed up with fellow Wellington resident Sheila C. Johnson, founder and CEO of Salamander Hotels & Resorts, to assist in developing and managing hospitality and golf operations.
The planned Tryon Resort will be a 1,400-acre retreat featuring the new Tryon International Equestrian Center. The project has created hundreds of construction jobs and is projected to contribute hundreds of permanent jobs and tens of millions of dollars to the economy and tax base in the Tryon, N.C. area.
Tryon Equestrian Partners, which started the project in January, employed more than 500 people to move 1.6 million cubic yards of earth, build five riding arenas with world-class footing, erect 500 permanent stables, lay 7-plus miles of fiber-optic cable, create miles of walking and bridle paths, install utilities and build more than 20 permanent structures, including several homes in the new Log Cabin Village.
Tryon features a broad range of equestrian sports that includes hunter/jumper, steeplechase, cross country, carriage driving, dressage, breeding, young horse shows, fox hunting and the Western disciplines.
"Our goal is to create a special place that focuses on the passion and love for both horses and horse sport," Bellissimo said. "We aim to create a destination that equestrian, leisure and group travelers from all over the world will visit."
Tryon Equestrian Partners' founding shareholders are Mark and Katherine Bellissimo, Roger and Jennifer Smith. Gwen and Howard Dvorkin, Lisa Lourie, Diana and Jenji Mercer, and Joe and Cindy Mitchell.
The Tryon International Equestrian Center began hosting the first of numerous multi-day, international-level equestrian competitions across several disciplines on July 2 in collaboration with the Tryon Riding & Hunt Club. These events will complement the Tryon Horse Show, the third-oldest in the country.
When completed, the equestrian facility will feature up to 10 riding arenas (including one with stadium seating for 6,000), 1,000 permanent stalls, elevated and shaded viewing decks, a large covered riding facility and the Tryon Sports Complex, which will include a health club, game room, kids' camp, sports bar, children's playground, tennis courts, mountain bike park, climbing walls, basketball court and a large pool with private cabanas.
Some investors in Tryon Equestrian Partners are also principals in the Palm Beach International Equestrian Center, home of the renowned Winter Equestrian Festival in Wellington.
Located on and adjacent to the former White Oak community, Tryon Resort features numerous accommodations for guests, competitors and spectators. Situated alongside White Oak Creek, Log Cabin Village includes new 2,600-square-foot, three-bedroom vacation rental cabins. The new Tryon RV Park offers hookups for water, sewer, electric and cable TV. The resort also offers private, multiple-bedroom, luxury homes available for rent.
Perched above the equestrian show grounds and scheduled to open in 2016 is a 150-room hotel being developed by Salamander Hotels & Resorts and designed by AW Architects.
Additional plans call for a luxurious resort featuring a world-class, nature-inspired spa, and dining and conference space set atop a panoramic vista; the completion of the resort's Arnold Palmer Signature Design golf course; and construction of new luxury homes. Salamander will manage each component.
Extensive knowledge of luxury hotels and resort operations, equestrian culture and golf course management is what led Tryon Equestrian Partners to select Salamander Hotels & Resorts to manage the hospitality components of the resort.
In August 2013, Salamander launched the equestrian-inspired Salamander Resort & Spa in Middleburg, Va., the historic heart of Virginia's horse and wine country. Acclaimed as one of last year's top hotel openings in the world, the 168-room property features an on-site equestrian center and miles of riding trails and dining options.
"I am grateful to the Bellissimos, whom I have known and respected for many years, and Tryon Equestrian Partners for choosing Salamander to manage this exciting and multifaceted development," Johnson said. "We look forward to delivering on their extraordinary vision of a world-class resort in Tryon."
For more information, visit www.tryonresort.com or www.tryonhorseshows.com.
ABOVE: Sheila Johnson of Salamander Hotels & Resorts with Paige Bellissimo and Mark Bellissimo, founding partner of Tryon Equestrian Partners, at the site of the new Tryon International Equestrian Center.