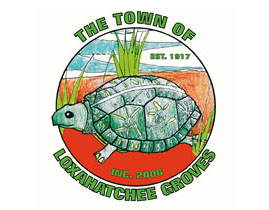 In a 4-1 vote, the Loxahatchee Groves Town Council rejected the final reading of a livestock waste ordinance Tuesday that would have required residents to get permits to spread manure on their property. It also would have included best management practices intended to promote cleaner water.
Several residents spoke against the ordinance, saying it infringed on their rights as property owners, to rounds of applause from a couple dozen residents attending the meeting.
The council approved an ordinance in 2012 that regulated haulers, requiring them to get permits to bring animal waste into the town, as well as property owners who received large amounts of the waste.
"This council directed staff to go through and analyze our regulations," Town Attorney Michael Cirullo said. "We did that; we spoke with authorities on the issue."
The council approved the ordinance's preliminary reading in May after eliminating permit fees for residents desiring small amounts of the waste for fertilizer, but retained restrictions on where animal waste can be dumped on property, including distances from the edges of property, potable wells and water bodies, as well as fines for violations, and possible jail time for chronic offenders.
Cirullo pointed out that the council had already adopted an ordinance that regulates the waste haulers.
"This is the ordinance that addresses the use by the private property owners," Cirullo said.
The ordinance also addresses where the waste can be spread, using guidelines developed by the Florida Department of Environmental Protection. The ordinance also contained recommendations by the Loxahatchee Groves Planning & Zoning Board.
Councilman Tom Goltzené said he had enumerated his objections at the May meeting, but reiterated, "I object to this because I believe it overregulates agriculture and doesn't have adequate exemptions."
He pointed out that he had spoken with a banana farmer on a 50-acre plot that used animal waste to grow the product. The farmer now has the property for sale.
"I think 50 acres of open space, no houses, pure bananas was a pretty good thing," Goltzené said.
Councilman Jim Rockett pointed out that they were trying to include good neighbor guidelines.
"We are looking here at an ordinance that takes into account both agricultural and non-agricultural uses side by side," Rockett said. "I think it tries to level the field a little bit between both those categories so that if you are non-ag, you have some rights relative to the distance from your property line that manure can be dumped. I look at it as something that treats everyone equally."
Rockett said the ordinance would also improve the town's position should it come under scrutiny by environmental agencies.
"At least we can point to something that they have written that we have adopted in trying to address issues that we have," he said. "If you have to get a free permit, we can make it even easier than making it free, and all you have to do is contact the town by sending out a letter."
Resident Virginia Standish, however, was not happy with the proposed ordinance. "I personally am insulted by this ordinance," she said. "Let's start by saying that only manure affects our water."
She pointed out that nursery runoff also accounts for water pollution, as reported by environmental biologist and resident Dr. William Louda.
"You have micromanaged and overregulated what the state has already accounted for," Standish said. "You say it is fair and reasonable to require property owners on which livestock waste is to be deposited to obtain a permit. Again, we were after haulers. I think we're going to have to ask nursery owners to get permits."
Standish added that as a resident, she thought she had the right to use her property for whatever she wants. "As a resident, do not limit my rights in this country," she said.
She also objected to a provision requiring property owners obtaining permits to receive animal waste to give consent for a town representative to inspect the property to ensure compliance with the terms of the permit. "You might have a permit, but no one enters the property without permission," Standish said.
She also objected to requirements that the permit puller provide drawings of where the manure is to be deposited and that violations could lead to jail time. "Don't tell me that you guys haven't gotten a little power-hungry," Standish said.
Lawrence Corning, a member of the Planning & Zoning Board, was troubled by the requirements for drawings of where the waste was to be distributed, using the setbacks required by the ordinance.
"When I look at my own situations, it's amazingly complex," he said. "The actual [drawing] looks like a gerrymandered congressional district on my own property trying to figure out where to drop it. It would be really hard to deal with."
Resident Nina Corning said the ordinance had gone overboard in trying to deal with a few bad apples in the town. "I'm in favor of protecting water quality as most of the people in this room," she said. "I understand, we have people who absolutely abuse it. We have certain companies that abuse it."
She said the town has time to fix the ordinance before next season.
Vice Mayor Ron Jarriel said he thought the ordinance clearly needed more work, and Mayor Dave Browning agreed.
Rockett made a motion to approve the ordinance, which failed 4-1.