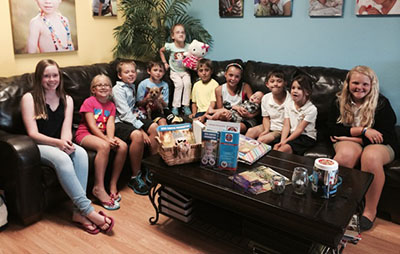 The Kids Cancer Foundation hosted its first "Kids Helping Kids" event at the Kids Cancer Center in Royal Palm Beach.
This new event, which launched June 3, was coordinated by Dr. Cynthia Mascia, a local child, adolescent and family psychologist, who donates her time to Kids Cancer Foundation patients and families.
Mascia coordinated renovating the bedroom of Casey, a 4-year-old patient of the Kids Cancer Foundation. Home Depot in Royal Palm Beach stepped up to donate the paint, paint the room and to install laminate flooring for Casey's new bedroom.
Mascia gathered together children in the community who expressed an interest in wanting to meet and befriend children with cancer.
The children then presented Casey with a special gift to decorate her newly renovated room.
Mascia had the children who participated in the event explore the feelings that children who are diagnosed with cancer may experience. They examined how it might feel to be sick and not be able to attend school, go to parties or even just go outside and play. They also discussed how it feels to help and give to others.
The event was such a success that all the children who participated asked if they could form a club that would focus on helping and giving to local children battling cancer. Mascia and her certified therapy dog, Cookie, a rescue dog, agreed to supervise and sponsor the club.
The Kids Cancer Foundation is a not-for-profit charity whose mission is to provide hope and support to local children and families battling cancer and/or a blood disorder.
The foundation provides these children and families with compassionate, easily accessible supportive care services. The Kids Cancer Foundation educates families about their child's diagnosis and treatment and provides the physical, emotional and financial support that these children and families require to help make their difficult journey a little easier.
Those interested in learning more about the Kids Cancer Foundation or making a donation are invited to visit www.kidscancersf.org, call Michelle O'Boyle at (561) 371-1298 or send checks to: The Kids Cancer Foundation 246 Royal Palm Beach Blvd., Royal Palm Beach, FL 33411.
ABOVE: Youngsters gather during the Kids Cancer Foundation's first "Kids Helping Kids" event.