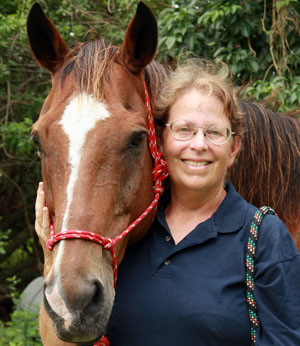 TALES FROM THE TRAILS
Tucked away on three quiet acres in Little Ranches, Morning Star Ranch offers a variety of hippotherapy and therapeutic horsemanship classes.
Turning Point Therapy is the brainchild and special mission of owner Trisha Coates. The ranch's mission is to support equestrian programs that promote physical, emotional, cognitive, psychological and social well-being of individuals with disabilities, while using an equestrian setting to provide coaching, mentoring, counseling and life skills to disadvantaged individuals in a caring, Christian atmosphere.
Coates' newest offering is the Trail Riders. The eight sessions run every Saturday from 2 to 4 p.m. It launched June 28 and continues through Aug. 23 (they skipped July 5). The goal: to do a trail ride at Okeeheelee Park on the last meeting.
"Right now we have four riders in the class," volunteer John Constantakos explained. "Three are teens, and one is an adult. These are our more advanced riders, so we decided to start this class to challenge them a bit. They may have someone leading their horse and side-walkers, or they may be able to ride unassisted. Some of the riders have mental and/or physical disabilities, but this group is open to anyone at all, any age, with or without any particular problems."
The goal is both fun and therapy.
"They ride and have fun while furthering their proficiency and knowledge," he said. "They learn the parts of the horse and work on specific skills. Our horses are pretty special, too. They remain calm no matter what. Everyone's really looking forward to the trail ride."
The skills are assessed at each weekly meeting on a check-off sheet. They include tying a horse using an easy-release knot, grooming, picking out hooves, leading and riding a horse past an obstacle, rinsing off a horse, keeping balanced while riding downhill, performing a safety check on the horse and tack before mounting, mounting and dismounting, and keeping a safe distance between horses.
Lisa DeRubeis has been bringing her 9-year-old daughter, Maddisen, to Morning Star Ranch for the past five months.
"I found out about it at Spectrum Speech," she said. "Someone there recommended it. Maddisen was having trouble with everyday things like standing up and fine motor coordination. She's on the autism spectrum and has dyslexia and language problems. Just doing normal tasks like getting dressed was difficult."
DeRubeis has seen improvements in her daughter since the therapy began.
"Maddisen used to fall down all the time just walking. She'd trip on air. She had poor muscle tone. Coming here has been wonderful. It has made a huge difference. She doesn't even realize she's having therapy. She loves being around the horses," DeRubeis said. "Trisha has an amazing way of working with her on her core balance and coordination.
She's very patient and kind. She throws a beach ball to Maddisen while she's riding, and Maddisen has to throw it back. She has to talk and follow directions. She's doing great, the best I've seen her in years, and we've done a lot of different therapies for a very long time. This is the first one that really worked for her on so many different levels, including socially."
Her daughter agrees. "Riding is a lot of fun," Maddisen said. "My favorite horse is Mighty. He listens to me. He stops when I lean back on the reins, and he goes when I bend my knees and squish him with my legs. I'm really looking forward to the trail ride."
Lenn Holland found Morning Star Ranch several months ago and signed up her daughter, Danielle, 11.
"I heard about it from Lisa," she laughed. "I love the progress I'm seeing. We have two rescue horses at home, but Danielle was too fearful to ride them. Riding here is a great way to socialize with other kids while accomplishing a lot of goals, especially her balance and fear."
Holland has also seen strong progress in her daughter.
"She is having a blast and is much more confident. I believe that she will be riding independently pretty soon. She is reluctant to try new things, but I think she will be able to ride our two horses one day. She can trot while holding the reins. She has improved her posture and has a lot of pride," Holland said. "Trisha is wonderful. She has a way of building Danielle's self-esteem and making her feel comfortable. I give her a lot of credit. Danielle is excited about going on the trail ride. It's a great motivating goal. Danielle has been defeated so many times in so many different situations. I love seeing her here laughing with the other kids and accomplishing so much."
Danielle enjoys her time at the ranch.
"I like riding and grooming the horses," she said. "Learning to trot was hard but fun. I'm excited and a little scared about the trail ride, but I think I'll do good."
Coates loves what she does. She holds hippotherapy and therapeutic riding classes Tuesday, Thursday and Saturday mornings.
"Everyone needs a hobby," she said. "Riding is not only fun and therapeutic, it's something you can do and work on improving for a lifetime. You learn a lot of life skills when you're around and on horses."
Coates is hoping to find a few more knowledgeable volunteers, 14 or older, preferably with horse experience, although she welcomes anyone who wants to help.
"We need horse leaders, side-walkers, people to help with barn chores and grooming. And our horses could use some riding and conditioning," she said. "We can use lots of help in a variety of areas: painting, photography, carpentry, farm maintenance, fundraising. We could also use some extra tack, both English and Western. Our wish list includes a wheelchair ramp, a portable office and a round pen. Plus there are still some openings for more Trail Riders."
For more information, call (561) 793-8007 or visit www.msranch.org.