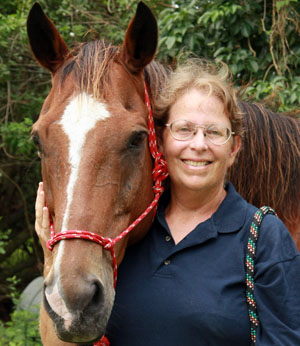 TAILS FROM THE TRAILS
Tucked away in a small spot on Fairlane Farms Road, ShowChic is a gem of a boutique, offering stylish riding apparel, horse-themed gifts and accessories, including breeches, show coats, stock ties, shirts, helmets, jewelry, gloves and saddle pads.
Geared mostly toward dressage, ShowChic stocks products by Kentucky, Cavallo, Arista, Pikeur, Equiline, Back on Track and Samshield.
But even if you've never considered stepping foot in a dressage arena, you might be interested in stopping by. On the second Tuesday of most months, owners Michelle and Doug Hundt host ShopTalk, a delightful, informal meet-and-greet featuring a variety of guest speakers.
"We started ShowChic 12 years ago," Michelle recalled. "I rode dressage for 30 years, then lost the passion. But I had a background in retail sales, so we decided to open ShowChic. I conceived of doing the ShopTalk series because there's such a wealth of information about riding and horses in this town. It was a way for us to add to the community, being more than just a shop."
ShopTalk, which is free, starts at 6:30 p.m. and runs for about an hour. Guest speakers talk briefly on their self-selected subject, then answer questions. Past topics have included equine nutrition, equine law, training tips, shoeing concerns and horse transport. Speakers range from Olympic riders to bestselling author and part-time Wellington resident Tami Hoag.
I attended the July 8 ShopTalk, featuring dressage rider and coach Todd Flettrich. In 2010, he represented the United States at the 2010 Alltech FEI World Equestrian Games and qualified as an alternate for the 2012 U.S. Olympic Dressage team.
"I'm not very good at lectures," he told me. "I'm a rider, a horse person. I hope people come away from this with a different understanding about what it takes to become a good dressage rider."
Despite intermittent showers, the small shop was nicely full by 6:40 p.m., guests mingling and chatting, sipping white wine or water, browsing jewelry and helmets, then finally sitting on the folding chairs. The atmosphere was friendly and informal. The guests quieted as Todd sat in a taller chair at the front. Michelle gave a short introduction.
Todd's topic was teamwork, how all top riders need a team in order to succeed, including horse, owner, trainer and farrier.
"I'm grateful to the people who helped me get where I am," he said. "My trainers were like my parents. I was dead last the first time I competed, and working up through the levels; they helped me achieve everything. It takes more than just talent and ambition. You have to have luck and the support of a team."
Todd also answered questions from the audience.
"Finding the right horse is very important," he said. "I like a hot, sensitive, eager horse. I'm laid-back; I'm the horse I don't like to ride. You'll only be as good as the horse underneath you."
The keys to success are respect and communication with both horses and people, he added.
"I can be told, but I can't be yelled at," Todd said. "Some people can take being yelled at, but I don't respond well to that. It's important to know what kind of person and what kind of rider you want to be."
Some people wanted advice on training routines.
"Is it more beneficial to attend a lot of clinics or stay with one trainer? I'd say it's OK to audit, but don't go overboard," he said. "There are many ways to get a horse to pick up his legs. Make a plan and stick to it. Find a trainer who matches your personality, then give him time to make a difference."
Afterward, there was more chatting and visiting, a free raffle drawing for items ranging from caps to a saddle pad, a happy buzz. No one was rushing to leave.
"I only miss a ShopTalk if I'm out of town," said MerriLynn Griffin, a dressage rider and judge. "It's a great opportunity to learn from a wealth of people. The educational aspect is priceless, plus I like supporting a local sponsor and meeting up with new and old friends who share a love for horses and riding."
Wellington resident Nanette Sexton agreed.
"I come to almost all the ShopTalks," Sexton said. "The summer meetings are fairly well attended, but during the season, sometimes it's standing room only. I like the camaraderie. There are always some good questions, and I learn a lot. I think anyone would enjoy this."
ShowChic is located at 3220 Fairlane Farms Road, Suite 3, in Wellington. To learn more about ShowChic Dressage and ShopTalk, visit www.showchicdressage.com or call (561) 319-2121.