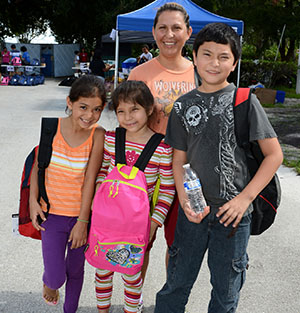 The Caridad Center held its annual Back 2 School Bash on Saturday, Aug. 9, where 1,200 children who are patients at the center were able to participate in the fun activities and receive a backpack with grade-appropriate school supplies inside.
The Caridad Center is the largest free healthcare clinic operated through volunteer providers in the State of Florida, serving the working poor and recently uninsured throughout Palm Beach County.
The first Back 2 School Bash 20 years ago had about 50 kids in attendance. Last year's event helped 1,100 children.
"This event has grown substantially. We are so appreciative of the community support that enables us to help so many children start their school year off right," said Laura Kallus, executive director of the Caridad Center. "Scarlett Fave has done an outstanding job of organizing this event for the past 12 years."
At this year's bash, most of the children found out their body mass index (BMI).
Organizations that contributed backpacks, school supplies or funds to the event include: Rothman Family Chiropractic; Bank of America; the Wellington Group; Lewis, Stroud and Deutsch; Tivoli Lakes Tzedakah Hadassah; the Christ Child Society of Boca Raton; Ascension Lutheran Church of Boynton Beach; and Brown and Bigelow. Individuals supported the event, as well.
In addition to medical services, the Caridad Center provides college scholarships, baby supplies, crisis intervention services, back-to-school supplies, and the adopt-a-family program during the holidays.
The Caridad Center is located at 8645 W. Boynton Beach Blvd. in Boynton Beach. For more information, call (561) 737-6336 or visit www.caridad.org.
ABOVE: A Caridad Center family receives backpacks.