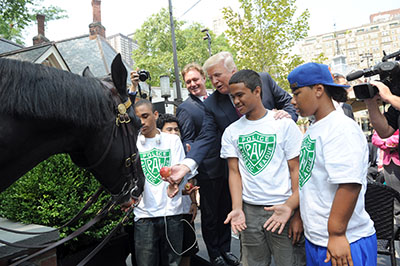 The first ever Central Park Horse Show Presented by Rolex is coming to New York City from Sept. 18-21.
The outdoor, four-day equestrian sporting event will showcase some of the best show jumpers and dressage riders in the world as they vie for top prizes against a backdrop of skyscrapers in one of the world's most iconic venues, the Trump Rink in New York City's Central Park.
The horse show was announced Tuesday by Wellington resident Mark Bellissimo, owner and publisher of event organizer Chronicle of the Horse magazine and CEO of Equestrian Sport Productions, producers of the renowned Winter Equestrian Festival in Wellington.
Bellissimo was joined by top riders Kent Farrington and Ashley Holzer, Susan L. Birnbaum of the NYC Police Foundation, and Donald Trump and John Catsimatidis of the NYC Police Athletic League during the announcement ceremony.
Highlights of the event will be a live television broadcast of the $200,000 Rolex Central Park Grand Prix on Thursday; a Friday night NYC vs. the world pro/am jumping competition; a Saturday evening World Dressage Challenge presented by Axel Johnson Group; and a Sunday afternoon polo match featuring some of the world's top players. Matinees on Saturday and Sunday will feature different equestrian performances and exhibitions.
"We're thrilled to shine a national spotlight on equestrian sport, allowing an unprecedented audience to appreciate the horses and these Olympic-level athletes in the world's greatest city," Bellissimo said. "We're honored to not only bring this spectacular event to locals and visitors of New York, but to collaborate and give back to such inspiring charities."
The event is sanctioned by the United States Equestrian Federation and the Federation Equestre International and is the first equestrian show at the Trump Rink.
"Bringing a world-class equestrian competition back to New York City is long overdue, and I am pleased to be part of this terrific event," Trump said. "These horses and their riders are the best in the world, and they deserve a spectacular location in which to demonstrate their wonderful talent."
The Central Park Horse Show will return Olympic-caliber equestrian athletes to New York City for the first time since the National Horse Show left Madison Square Garden in 2001. The $200,000 Central Park Grand Prix will be televised live on NBC Sports on Thursday, Sept. 18, from 7 to 8:30 p.m.
"To support dressage in Central Park is very special for me as a New Yorker, born in the city and with Central Park as my childhood's playground," said Antonia Axson Johnson, chairman and owner of the Axel Johnson Group.
The Central Park Horse Show will also benefit several New York City charities, including the New York City Police Foundation/NYPD Mounted Unit, the NYC Police Athletic League and Gallop NYC.
Additionally, 50 percent of the matinee tickets will be donated to local children's groups in order to broaden the exposure of equestrian sport.
"The NYPD's Mounted Unit was one of the first crime fighting strategies that the New York City Police Foundation funded," Birnbaum said. "We are extremely grateful to the Central Park Horse Show for their support so that the Mounted Unit can continue to help keep New York City and its inhabitants safe."
"On behalf of the Police Athletic League, I wish to show my appreciation to the Bellissimo family and the Chronicle of the Horse for their generous contribution that will allow us to continue helping improve the lives of New York City's children, by providing safe places to enjoy fun, recreational activities," added PAL Board President John B. Osborn.
Tickets for the Central Park Horse Show go on sale Aug. 4. For more information, visit www.centralparkhorseshow.com or e-mail centralpark@chronofhorse.com.
ABOVE: Donald Trump and Mark Bellissimo, joined by youth from the NYC Police Athletic League, feed an apple to NYPD Mounted Unit horse Torch after announcing the first ever Central Park Horse Show Presented by Rolex. Photo by Diane Bondareff/Invision