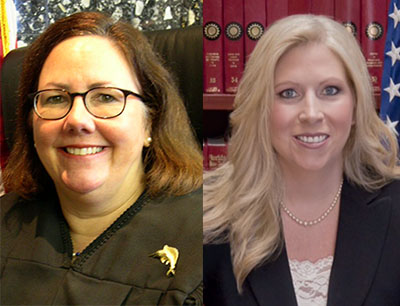 By Chris Felker
Incumbent judges are rarely challenged in Palm Beach County, but the race for 15th Judicial Circuit Judge, Group 14, is an exception.
The race, which pits attorney Jessica Ticktin against sitting Circuit Court Judge Diana Lewis, will be decided during the Aug. 26 primary election.
The already-contentious race has heated up a bit more of late with challenger Ticktin leveling a charge that incumbent Lewis hadn't yet encountered.
In an interview, Ticktin said that she learned through research via the legal search engine Westlaw that Lewis has one of the highest reversal rates on appeal of any 15th Judicial Circuit judge.
"I could see which cases were affirmed and which ones came back with errors," Ticktin said. "And she had about 40 percent of her cases that came back with errors. It's a very high number. I see that as a big problem."
Lewis, who has been a judge nearly 12 years and also survived a challenge six years ago, dismissed the criticism.
"Statistically, it's difficult to respond to only because if I was affirmed in part and reversed in part, she counts that as a reversal," Lewis said. "It's kind of difficult to do that, not knowing the volume of the cases that the other judges had with regard to appealable issues and the nature of the division as to how many cases would be appealed. In fact, if you look at her statistics, there are other judges who have higher rates, but it depends on what division they're in."
Lewis, 61, of West Palm Beach, earned a bachelor's degree in 1974 and her juris doctorate in 1982 from Notre Dame Law School. She also holds a master's degree in education from Florida Atlantic University (1976). She won her seat on the bench in 2002 and was re-elected in 2008.
Ticktin, 35, of Boca Raton, is a partner in Ticktin Law Group, owned by her father, Peter Ticktin. She earned a bachelor's degree in criminology from Florida State University in 2001 and her juris doctorate from the Stetson University College of Law in 2003.
Throughout the race, Ticktin's main criticism of the incumbent has been based on a 2013 poll conducted by the Palm Beach County Bar Association. The poll ranked Lewis last among 34 circuit judges in categories including demeanor, impartiality and knowledge of statute.
"One of the qualities that can't be taught, I believe, is demeanor," Ticktin said. "I strongly believe in treating people with the respect they deserve. I cite the Palm Beach County Bar evaluation because this is how the attorneys evaluate the judges."
Lewis has responded to that charge by throwing doubt on the survey's validity, noting that out of the county's thousands of lawyers, only 216 responded. She also contends that she relies on a Florida Supreme Court evaluation that attorneys can fill out after appearing before a judge.
Ticktin countered: "The lawyers of Palm Beach County have spoken, and according to the lawyers, Judge Lewis has the highest percentage of votes for 'needs improvement' in the categories of impartiality, freedom from bias and prejudice, judicial demeanor and courtesy to lawyers, control of courtroom, common sense and enforcement of standards of professionalism."
But Lewis retorted: "What does that tell you? That should tell you that perhaps the people who were responding weren't meeting the criteria that are outlined by the bar in setting out the evaluation."
Ticktin insisted: "These evaluations are only supposed to be completed by attorneys who have appeared before this judge, I think, three times or more, or have had a trial before this judge. Considering that, she had 216 responses, which I think is a high number."
Lewis said Ticktin has ignored a reprimand of sorts about using that 2013 survey.
"The bar campaign practices committee has sent her a letter saying that [her use of the poll results] is misleading and perhaps a violation of Canon 7, and she continues to use it," Lewis said. "She fails to tell the public that only 10.33 percent of the people sent the survey responded."
Lewis said that voters should re-elect her because she is the more qualified and experienced candidate.
"I've proven myself over 11-and-a-half years. I've been assigned to three different divisions. I'm currently in probate, guardianship, mental health and part-time foreclosure," she said. "I have the integrity to continue with the job. I'm fair, honest and impartial, but most of all I want to serve the people of Palm Beach County."
Ticktin noted that she has solid experience as well.
"In 2009, I became a partner of Ticktin Law Group and successfully ran the firm for four years as managing partner, overseeing 10 offices all over the state with 24 attorneys and more than 4,500 cases to manage. I was very successful with that. I've been a successful practicing attorney for more than 10 years in Palm Beach County."
But Lewis cites her opponent's lack of trial experience.
"She managed her father's firm because he had been disciplined," Lewis said. "But the bottom line is that, yes, management skills are important, but also jury trial skills are important. I've had more than 100 jury trials and around 1,000 non-jury trials. According to her survey, which is on the Florida Bar web site, she's had zero jury trials and only 20 bench trials."
The challenger noted the organizations lined up behind her candidacy.
"I've been endorsed by the Treasure Coast AFL-CIO, the National Organization for Women, the Police Benevolent Association and the Fraternal Order of Police," Ticktin said. "It's very rare for somebody to challenge an incumbent judge unless there's a problem, and it's even more rare for these organizations to endorse somebody who's challenging an incumbent judge."
Lewis counters that her endorsements come from county leaders, including State Sen. Joe Abruzzo, State Rep. Pat Rooney Jr. and State Attorney Dave Aronberg.
"I have no response other than to say that, yes, [those groups] did endorse her, but the leadership in Palm Beach County is endorsing me," she said. "And they've seen my record."
According to the state Division of Elections, challenger Ticktin has a financial advantage because of $200,000 she lent her own campaign. She has also received $30,676 in contributions and $1,186 in in-kind contributions, while having spent $82,171 thus far, according to her report filed July 11.
Judge Lewis has raised $94,554 total, including a $10,000 loan from herself and $2,564 in in-kind contributions. The incumbent has spent $54,892 thus far, her report shows.
Polls open Aug. 11 for early voting in advance of the Tuesday, Aug. 26 election.
ABOVE: Judge Diana Lewis (left) and attorney Jessica Ticktin (right).