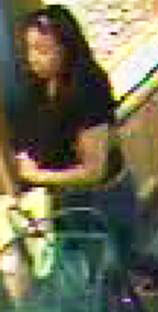 The Palm Beach County Sheriff's Office is looking for a suspect involved in a theft earlier this month at the business in Royal Palm Beach.
On Tuesday, Aug. 12, at 7:30 p.m., an unknown female entered Professional Family Eye Care, selected a set of Valentino eyeglass frames, concealed the frames under her shirt and left the store without paying for them.
The female is described as Hispanic, 5'5", and weighing approximately 170 lbs. She appears to have a large tattoo across her lower back/hip area and dark, straight hair.
If anyone can identify this suspect, they are urged to contact Crime Stoppers at (800) 458-TIPS.