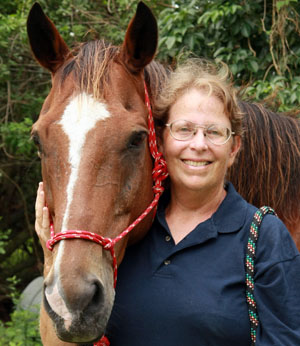 TALES FROM THE TRAILS
It was such a simple thing, something riders do every day without thinking: mounting a horse. Kathy Newman, a successful hunter/jumper rider, stood on the mounting block and stepped across. The horse moved further out, Newman missed and went down, hyper-flexing her knee the wrong way.
"I basically tore everything," she recalled. "The only thing holding the joint together was the bones."
Newman ended up at the Mayo Clinic for surgery, then came home to Wellington to recuperate. She also needed help with her rehabilitation.
"I knew Laura Minnucci. She and a friend, Elissa Salzman, had just opened Pilates Rocks, so I started going. They're a great team. They got me back on my feet and back in the saddle. What they teach you incorporates all you need to be a better rider."
The programs are personalized, not everyone doing the same exercises.
"They focus on your specific weaknesses and strengths," Newman said. "They work you up through the levels. The work is hard, but fun. I feel very comfortable going there, because I'm in the best of hands. My daughter, Katherine, who is also a successful rider, goes as well."
Minnucci and Salzman opened Pilates Rocks at 3460 Fairlane Farms Road in Wellington in 2008.
"Elissa and I met when we were training for our pilates certification here in Florida," Minnucci said. "We hit it off immediately. I've worked in physical therapy and fitness training my whole life. We both received our PMA (Pilates Method Alliance) certification."
Salzman is also a rider.
"I started riding very late in life, at 49," she said. "I was frightened of big animals. In Aspen, some friends were going on a cowboy day. You get on a horse, move cattle from one pasture to another, have a barbecue lunch, then mount up and move more cattle. They talked me into going along. I figured I'd get through the morning, and then have lunch. But I kept going. It was fun."
Salzman began to pursue riding back home in Newton, Mass.
"I pulled up to a local barn, terrified to get out of my car," she said. "Finally, I made it to the barn. I was as green as grass. I didn't know the first thing about horses or riding. I was scared to death every lesson, but eventually I learned to ride and jump. I bought a horse in Europe, a fabulous Dutch Warmblood gelding named Piccolo. I used to show Adult Hunters, but now I just ride for pleasure."
Salzman moved to Wellington in 2006 to be closer to her grandchildren. She started doing pilates 15 years ago, because she kept falling off, and pilates was a better choice than surgery. "It was the only exercise I ever liked. It became my passion," she said.
Salzman said that pilates is uniquely helpful for equestrians, no matter what discipline they ride.
"Imbalances develop over time, and asymmetry really affects how you ride," she said. "Pilates exercises increase body awareness and improve flexibility, balance and strength. They lengthen the spine, strengthen the core and increase hip independence. Many people think pilates is like yoga, but they're totally different. Pilates can help anyone feel better. We have clients from young children to people in their 80s. This is an exercise you can do for the rest of your life."
Pilates Rocks offers both private sessions and group lessons. First-timers always begin with a $60 private session to become familiarized with the equipment and exercises.
"We evaluate each client to see what they need and hope to accomplish," Minnucci said. "We want them to make sure pilates is right for them. We explain the correct way to do each exercise so they understand the principles of the functional movement patterns."
Susie Dutta is a successful international dressage rider. "I've been working out at Pilates Rocks for five or six years," she said. "It's my main workout. Pilates is the ultimate form of exercise for riders."
She enjoys working with Salzman.
"She's the glue that keeps me together. I'm 45 now, and things are starting to fall apart a little. Pilates has helped my position remain strong, quiet and square. It aids my balance and suppleness," Dutta said. "My 13-year-old son rides polo, and now he goes with me as well. We're sold."
Max Amaya is from Buenos Aires, where he competed extensively in the South American Grand Prix division before showing internationally and training elite riders. He has been going to Pilates Rocks for the past five years.
"I had a riding accident in the 2009 Nations Cup," Amaya recalled. "I had never had a problem before, and now I had two pulled groins, pulled ligaments, pelvic problems. I was so injured I couldn't get back in the saddle. Then, in 2010, I reinjured the soft tissue. I was struggling to get back into shape. A friend recommended Pilates Rocks. I was skeptical, did a few classes, debated not continuing, but then I could see the difference. My riding got better, stronger, and my core strength and balance were greatly improved."
Amaya is now a big believer in pilates. "I'd absolutely recommend Pilates Rocks to anyone, whether they're injured or not, and whether they ride or not," he said. "As you get older, your body requires some attention. Elissa and Laura are a pleasure to be around. They have a lot of positive energy, and their workouts are lots of fun."
For more information, call Pilates Rocks at (561) 204-3185, or visit www.pilatesrocks.com.