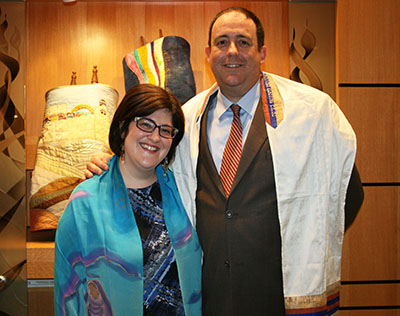 Friday, Aug. 1 was Rabbi Andrew Rosenkranz's first official day as the new spiritual leader at Temple Beth Torah in Wellington, and the congregation is welcoming him with open arms as he continues the legacy of Rabbi Emeritus Stephen Pinsky.
"I'm very excited to be a part of the building and maintaining of a sacred community," he said. "Over the years, I've gotten to know a lot of people both in the Jewish and non-Jewish community here, and I just love the town."
Rosenkranz starts with close ties to the congregation. His daughter, 6-year-old Laila, just so happens to have a friend in Wellington named Blake Barry. Blake's mother just so happens to be Carrie Barry, the cantor at Temple Beth Torah.
But the cantor and rabbi did not first meet through their children.
"We were in school with each other," Rosenkranz recalled. "We were in the same class in Jerusalem. We did all five years together at Hebrew Union College, which included our first year in Jerusalem and the next four years in New York."
"So, we met in June of 2000, in Jerusalem," Barry added.
Rosenkranz met his future wife, Erica, also a rabbi, at Hebrew Union College. Now they have two children, Laila and 1-year old Havi.
Of moving from Boca Raton to be the rabbi at Temple Beth Torah, Rosenkranz considers it to be fate. He looks forward to the prospect of working with Barry and forming a strong clergy partnership.
"I was very excited to team up with somebody who I knew very well, and knew her professionalism, and her energy and her drive," he said.
There are many benefits, Barry explained, to working with someone you know and went to school with.
"It's really exciting, because it's rare for classmates to end up in a clergy partnership," she said. "We worked with the same professors, we had all the similar experiences, so we're coming from this shared educational background and the same approach. Any movement has this, where you go through different paradigm shifts, and the pendulum swings back and forth. We went to school at the same time, so we're bringing a unified understanding about this moment in Reform Judaism together to this congregation."
The strong relationship between Rosenkranz and Barry only will help the transition, both said.
Rosenkranz has many plans for the future of the temple with the goal of "moving the congregation forward with the Reform movement and the platforms, positions of the Reform movement to create strong bonding relationships among and within the congregation, to continue providing exciting programming and to bring Judaism to our families in a way that is both spiritual and meaningful," he said. "Because that's what I believe Judaism should be — something that brings happiness and meaning to people's lives."
Rosenkranz feels as though he and his family have been embraced by the congregation.
"My wife and family feel very much at home already. We feel this overwhelming sense of warmth, love and hamishness that has come from the congregation," he said. "I'm impressed already by what I've seen."
Feeling a sense of community is important to Rosenkranz, who recently moved his family from Boca Raton to Royal Palm Beach. "Everything is so new right now. It's very warm and natural. Everybody has been helpful," he said. "People are suggesting everything from the best Chinese restaurants to where I should get my shirts laundered."
Barry looks forward to the changes her friend and former classmate will bring.
"This is a tight-knit community, and now I'd like to see this community move forward with strength and with care for each other," she said, explaining that with a new spiritual leader at the helm, she would like people to really feel that this is their sacred community.
Rosenkranz has begun an outreach campaign with the help of a transitional committee, to meet the members of the congregation through informal gatherings, one-on-one meetings and various events. Appointments are not necessary, Rosenkranz said, to come meet him.
On Sunday, Aug. 24 at 10 a.m., there will be an open house at the temple for people to meet the rabbi, cantor, the directors of the religious school and preschool, and committee members.
"I hope that if a new Jewish individual or family moves to Wellington, they will seriously consider coming by and looking at us and seeing what we're all about and watching us grow and being a part of the family," Rosenkranz said. "I look forward to continuing to propel the congregation into being a part of the greater Wellington family."
Temple Beth Torah is located at 900 Big Blue Trace. For more info., call (561) 793-2700 or visit www.templebethtorah.net.
ABOVE: Cantor Carrie Barry with Rabbi Andrew Rosenkranz.