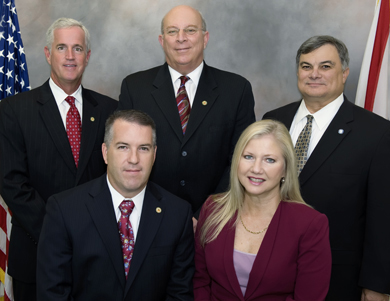 The Wellington Village Council decided to try to negotiate a better deal with its solid waste collection provider Waste Management last week, and possibly put out a request for proposals to gauge the market.
The proposed rate for fiscal year 2014-15 is unchanged from the previous year at $160 per curbside unit and $125 per containerized unit.
The village's budget for solid waste collection with Waste Management is about $4 million.
At the Aug. 12 meeting, Vice Mayor John Greene and Councilman Matt Willhite supported putting out a request for proposals, citing the length of the contract, which is seven years.
Councilman Howard Coates said he was also wary of the length of the contract, but pointed out that it also locks in the rates for that time period. He added that he thought the current rate was very good.
Seeking new proposals runs the risk of not getting as good a price as they currently have, Coates warned.
Councilwoman Anne Gerwig asked whether they should ask the Office of Inspector General for an opinion, especially regarding recent scrutiny of solid waste contracts in other municipalities.
Village Attorney Laurie Cohen said it was clear in the agreement that Wellington has the ability to renew the contract if the village chooses to. She added that an internal audit was conducted that revealed no discrepancies, which had been submitted to the inspector general's office.
"They don't usually give an advisory opinion if there has been no complaint or documentation filed," Cohen said, adding that there is a clear renewal clause in the contract.
Mayor Bob Margolis said he has heard from people he talked to that waste collection service in Wellington has been exemplary, but would like to further pursue a response from the inspector general.
Willhite said he would like to negotiate with Waste Management or seek proposals to see if they can get a better deal for taxpayers.
"I know there's dice rolling, but there's always a possibility that you get a better price," Willhite said. "We're a pretty large contract. This isn't a question of service."
Greene said he would not object to trying to negotiate a better deal.
"I think Waste Management has demonstrated a commitment not only to service to this community but involvement with the community," Greene said. "I realize we have a responsibility of protecting the taxes and funds that we are responsible for, but the market is the market."
He felt that Waste Management might be willing to negotiate, and if not, would be upfront about it. "Maybe this is the best price, but I concur with Councilman Coates that it is a risk to say we're going out for an RFP and potentially lose what has become a valued and trusted vendor without being able to negotiate something or see what the market bears," Greene said.
He pointed out that the council has until Sept. 30 to renew the existing contract.
"I trust that you can negotiate the best possible contract that we can get," Greene said to staff members.
Coates made a motion to authorize village staff to negotiate with Waste Management and bring the results back to the council for consideration, at which time the council will either accept the negotiated contract or put out a request for proposals.
The motion passed unanimously.