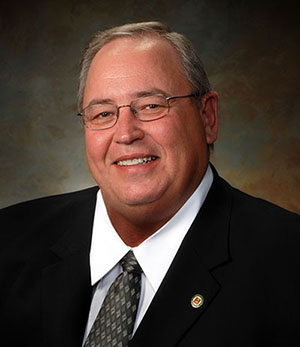 Wellington officials are hopeful that an agreement can be reached to use a wetlands area owned by the South Florida Water Management District to help the village develop more stormwater drainage capacity.
Wellington Village Council members discussed the possibility of increasing the village's water storage capacity at meetings last month, and the leading contender to make that a reality is a 1,500-acre portion of the Strazzulla Wetlands south of Wellington.
Village Manager Paul Schofield told the Town-Crier this week that Wellington is in preliminary talks with the SFWMD regarding use of the property.
"They're very preliminary, but as Wellington looks to the future, there are two real needs that we need to find a way to solve," Schofield said, explaining that during droughts, the village can't withdraw enough water from the C-51 Canal to meet its needs, and during major rainstorms, it cannot discharge enough water into the C-51 Canal to control flooding.
"To put those kinds of numbers into perspective, Wellington treats about 1.8 billion gallons a year of water, and that's what we provide to our residents as part of our drinking water system," he said. "There is another 3 billion gallons of water that the South Florida Water Management District has issued consumptive use permits for other uses in Wellington. You take uses like the irrigated polo field and the nurseries, and it comes up to twice what our drinking water supply is."
Wellington's permitted withdrawal from the C-51 Canal is 413 million gallons.
"If it's a really dry winter, we can hit that capacity very quickly," Schofield said, pointing out that with talk of routing Lake Okeechobee and Palm Beach County water to Broward County, there are municipalities in this county that have water shortages.
Wellington is also dealing with issues regarding water quality.
"Over the last decade, we've spent about $40 million cleaning up the quality of the water that Wellington discharges into the state and federal system," Schofield said.
Yet the village still faces challenges with the onset of the numeric water quality standards that the U.S. Environmental Protection Agency is putting forward.
"The Environmental Protection Agency is trying to redefine portions of the Clean Water Act," Schofield explained. "They're trying to redefine our waters, and those things can change drastically the quality of the water that we can discharge into the canal. So, we're looking for two things: to store water so we can put it back into our system in times of drought, and a place to do water quality improvement."
The SFWMD's Strazzulla property is immediately contiguous to Wellington on the village's southern boundary, and 1,500 acres of the 3,300 acres is actually in the Acme Improvement District, Schofield noted.
"We'd like to talk to them about doing something equivalent to what happened in Section 24, which is we essentially go in and manage it as a wetland and store water," he said.
Section 24, now known as the Wellington Environmental Preserve at the Marjory Stoneman Douglas Everglades Habitat, is a 365-acre rainwater storage area with nature trails and learning centers. It was built through a partnership between the SFWMD and Wellington.
In compliance with the 1994 Everglades Forever Act, rainwater from Wellington must be cleansed of phosphorus before it enters the Everglades. The 9,230-acre southern half of Wellington, known as Basin B, has stormwater runoff routed west to Section 24. Once clean, it leaves Section 24 through the C-1 Canal, heading north to the C-51 Canal before finally entering the Everglades.
The Strazzulla property could multiply the effect, Schofield said, using the land for storage and to improve water quality and flood protection, and releasing it back into the system during periods of drought.
"The talks are in the really, really preliminary stages," he stressed. "We've talked to the council about it because we are beginning to spend money, and I'm not going to have a conversation with a state agency that the council's not aware of."
There are issues with the Strazzulla property that would need to be resolved, including a tentative agreement between the SFWMD and U.S. Department of the Interior to trade the Strazzulla Wetlands for another piece of property called the Snail Farm, on the west side of the Arthur R. Marshall Loxahatchee National Wildlife Refuge.
"We're going to sit down and talk to the Department of the Interior, but we would like to at least explore the option where Wellington can manage that as a functional wetland that can provide water quality improvement, stormwater attenuation and storage for droughts," Schofield said. "The Department of the Interior would like to pick it up as a buffer zone for the refuge. I think we can accomplish the same goal, but we are in very early discussion stages."
The Strazzulla Wetlands is vacant except for a radio tower. The SFWMD acquired the property years ago and transferred its development rights to the county.
Schofield added that Section 24 has already proven its effectiveness in flood control.
"We put water into Section 24 now and release it back into the system, which is why this year we didn't exceed our withdrawal allocation," he said, adding that having use of a portion of the Strazzulla Wetlands could potentially add up to a foot's worth of water retention for Wellington during a major storm.
Council members have also discussed the possibility of increasing discharge into the C-51 Canal, but Schofield does not believe that is attainable.
"The C-51 Canal has a finite capacity," he said. "There's a point at which you can't pump any more into it, and that's the other reason for looking at Strazzulla… We pump into Section 24 now. We can put 400 acre-feet into there, but there's just not an ability to pump more into the canal."
Tropical Storm Isaac was an exception because the flooding was so localized, he said.
"With permission, we were actually putting more than one inch of water into the West Palm Beach Canal every day that we were discharging," he said. "The reason we could do that is that storm was so localized. It was a band that ran through Wellington and up through The Acreage. If you were three miles to the east, you didn't get that kind of rainfall."
ABOVE: Wellington Village Manager Paul Schofield.