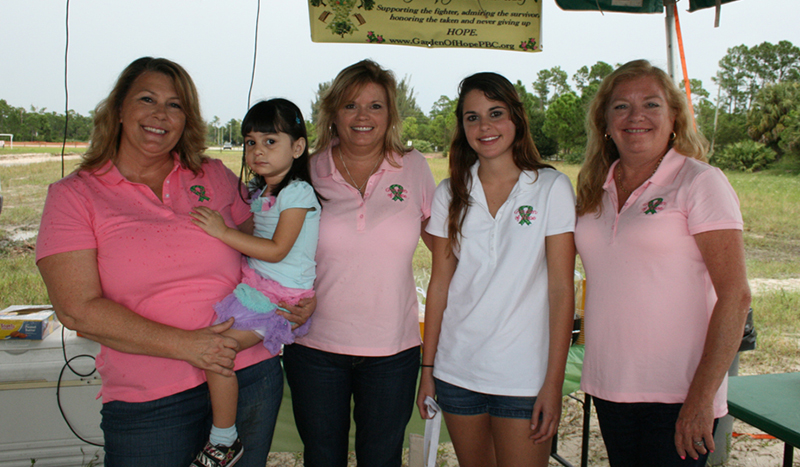 On Wednesday, Sept. 17, officials from the Indian Trail Improvement District broke ground on Acreage Community Park's long-awaited southern expansion. Included at the event was a groundbreaking for the Garden of Hope project.
ITID Supervisor Ralph Bair thought back to the beginning of Acreage Community Park.
"This is the vision we've been waiting for since we started this park back in 1995," he recalled. "It was cold and wet and rainy in March, and the board at that time got the park started up in the north and got the football fields built."
It wasn't long before kids by the hundreds took to the fields to play, leading to the popularity of the park and eventually requiring the current expansion. "We're going to get this job finished," Bair said. "Thank you for all your hard work."
For Tracy Newfield, organizer of the Garden of Hope project, Wednesday was an emotional day. The garden was inspired by her daughter Jessica, a cancer survivor.
"I want to thank all the board members for supporting me and helping me with this," she said before presenting ITID officials with a bag and a plaque. "My dreams for the garden are finally happening. We're leaving our footprint here that everyone will see."
The garden is a concept that other local groups have also embraced. Abbe Felton with Your Bosom Buddies II, a breast cancer support group serving the western communities, is also thrilled.
"When we started back in 2000, this was like a dream of ours," she said. "That someday there would be a place where our members could go while going through their surgeries and their treatments… Just a place they could sit and meditate."
ITID Supervisor Michelle Damone focused more on Newfield's work than the park itself.
"Honestly, we're not giving Tracy enough credit," she said. "I have the most tremendous respect for what she does, the passion that she has for what she does, the reasons why she does it, and she's truly somebody in our community who should be recognized for all the work that she does to give back. There isn't a child out here, or in our neighboring communities, who doesn't get a little Tracy-love from the Garden of Hope."
Simmering for years on the back-burner, Newfield is grateful to see the Garden of Hope taking shape.
"My family and I have worked hard and are excited to finally see ground breaking for this project. We hope it will be done in time for the 2015 Relay for Life in the spring," she said, before quoting the project's motto. "The garden will be a footprint for those who need a quiet place to 'support the fighter, admire the survivor, honor the taken and never give up hope.'"
Daughter Jessica Newfield, the park's inspiration, was happy to see her mother's work come to fruition.
"I'm proud of my mother and of our Garden of Hope," she said. "I look forward to seeing its completion."
To learn more about the Garden of Hope, which still has sponsorships available, visit www.gardenofhope.net.