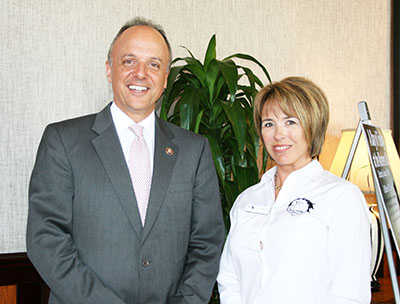 Wellington Chamber of Commerce members gathered for a luncheon Wednesday, Aug. 27 at the Wanderers Club to hear from Congressman Ted Deutch (D-District 21) and guest speaker Liz Olszewski, founder of Horses Healing Hearts.
Olszewski started the not-for-profit organization to help heal children through human and equine relationships. Horses Healing Hearts focuses on helping children whose families suffer from substance abuse.
"Not only are these children resilient, they are incredibly resourceful," she said.
When she was 14, Olszewski's mother was diagnosed with cirrhosis of the liver due to alcoholism. Her father had left the family when she was very young, and then Olszewski found out that her mother's days were limited. "This was not only my only parent, this was my best friend, and now she was dying. It was quite traumatic, as you can imagine," she said.
That summer, she stayed with her aunt, a dressage trainer, in Pennsylvania, and bonded with a mustang. Then, she moved to Ohio with another aunt. At 14, she was bar-hopping with her brothers, lacking daily structure. "Every day I was wondering, 'Is this the day my mom's going to die?'" she recalled.
However, the timeline the doctors provided was some years off. "My mom died when I was 24, and by this time I was engaged. My husband and I had a substantial business, and I owe that to the people who intervened and helped," Olszewski said, explaining that if her support system and horses were not around, "I would have had a very different path, very similar to my mom."
While volunteering at an equine therapy center for physically handicapped and autistic children, the concept of starting a similar program for children of alcoholics took form.
"Five years later, we are proud to be serving 48 children in Palm Beach County," she said. "We are the only organization of our kind in the nation and potentially the world… No one is serving the specific demographic of alcoholics and addicts like we are."
Each week, students come to designated barns for two-hour sessions that involve equine therapy and conversational therapy. "At home, they learn three unspoken rules: don't talk, don't trust and don't feel," Olszewski explained, referring to the children of alcoholics and addicts.
At the beginning of the sessions, the children speak, allowing them to talk in a safe place before a private riding lesson. At the end of the session, they recap and learn how to apply what they learned that day to the upcoming week.
"I don't tell you any of this for getting pity," she said. "These kids, the last thing they want is pity. What they want is to be able to control their lives. They want out of the drama, out of the trauma. They dream of turning 18 and getting out and being able to affect their future. That's basically what they want. The struggle therein comes when they feel that everybody else is living a normal life and they are not."
On Saturday, Oct. 18 from 11 a.m. to 2 p.m., Horses Healing Hearts is presenting a Family Fitness Fun Day with food trucks, vendors, games and contests at the Polo West Golf Course in Wellington. For more information, visit www.fff4hhh.com.
The Young Professionals of Wellington group has also designated the nonprofit as the beneficiary of its second annual Wicked at the Wanderers costume and casino party on Nov. 1. Tickets can be purchased at www.ypwellington.com.
For more information about Horses Healing Hearts, visit www.horseshealingheartsusa.com.
Deutch, who easily won his Democratic primary election the night before, began by thanking Olszewski and her team for the work that they do.
"Though you did not ask me to do this, there were opportunities on there to be involved, and I would encourage members of the chamber to be involved. It's really impressive what you're doing and how you focus, and the impact that you're having on these kids is no doubt remarkable," he said.
Deutch, who faces only token opposition in his bid for a third term in November, greeted chamber members by noting that small businesses have been responsible for 77 percent of recent employment gains. He geared his speech toward the chamber's agenda before discussing the federal budget deficit.
"We have to continue to invest in research and development because it helps our economy as a whole," he said, explaining that if the U.S. government doesn't, other nations will. "If we're not making investments in roads and bridges and ports and seaports, we fail to recognize that our competition isn't between Republicans and Democrats — an important thing to note coming the day after an election — but that we're competing instead with our competitors internationally… If we don't make the investments in the infrastructure that are necessary, we're going to fall behind."
Climate change and immigration are two other hot-button topics Deutch explored before discussing the impact of the partisan divide.
Using television news as an example, Deutch explained that it isn't good TV for stations to show collaboration. "It doesn't fit into people's view of the way Washington works, as we're so accustomed to hearing that things are broken. But there are real examples of things that are getting done," he said.
One is related to Medals of Honor after the Korean War. Deutch worked to override the laws that limited the elapsed time when medals could be awarded.
"I went out and enlisted the support of a good Tea Party friend of mine, someone who doesn't share a lot of my views on a lot of issues, but we both knew that this was a problem that had to be addressed," he said. "We worked together and passed the necessary legislation to make possible what is the single greatest moment I've had as a member of Congress."
Two of the 24 newly enabled recipients were able to accept their medals, while the rest were accepted by surviving family members.
"The president, one at a time, called up the individual or the family member, as they read in great detail all of the heroic efforts that enabled them to receive the Medal of Honor, and at that moment, they had what was the largest awarding of Medals of Honor in our nation's history," Deutch said.
Though Deutch frequently showcases this story, he is often asked how such an example relates to big issues.
"If we can come together when we know there's a problem that everyone acknowledges has to get addressed, like we did there, then we ought to be able to do the same thing on these other big issues the country faces," he explained.
Advocating for compromise, he said, is something that can continue in Congress, and is something he strives to achieve. For additional information, visit www.teddeutch.house.gov.
The Wellington Chamber of Commerce will host a public event Saturday, Sept. 20 at 7 p.m. at the Wellington Amphitheater called "Endless Summer." Surf Party, a nationally renowned Beach Boys tribute band, will be playing. There will also be a movie showing and food trucks on site. Vendor spots are still available.
For more information about the Wellington Chamber of Commerce, visit www.wellingtonchamber.com.
ABOVE: Congressman Ted Deutch and Horses Healing Hearts founder Liz Olszewski at last week's Wellington Chamber luncheon.