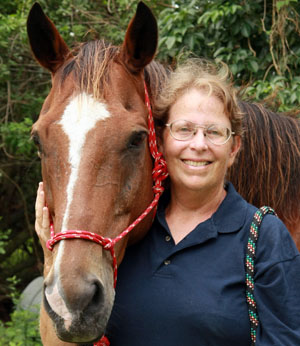 TALES FROM THE TRAILS
The weather was great on Sunday, Aug. 24 when a group of driving enthusiasts, both participants and auditors, gathered at the Vinceremos Therapeutic Riding Center in Loxahatchee Groves for a driving clinic hosted by the Florida Whips. The large covered arena made things comfortably shady.
"We've had a great turnout," said Susan Guinan, who's both development director of Vinceremos and a member of the Florida Whips. "We've had a lot of interest, and all 11 of the private 45-minute sessions are filled. We have some experienced drivers, but mostly beginners just starting to drive or teaching their horses the basic groundwork."
The clinic featured Scott Adcox from Sarasota, a USEF/FEI competitor in combined driving. The Florida Whips is a statewide equine driving organization offering clinics, pleasure drives, competitions, picnics and opportunities to help anyone develop and enjoy their driving skills.
"We're really pleased to have five or six brand-new people here today, and a bunch of new auditors," member Bettina Scherer said. "It's very exciting."
"This event is just wonderful," agreed Florida Whips Southeast Regional Director Eloise Nelson. "This is one of three clinics geared toward people who are just starting out. The first was held in Melbourne, and the third will be held in Palm City in November. We received a grant from the American Driving Society to help defray the costs."
Nelson took up the sport of driving in 2007. "This group, the Florida Whips, took me in and made me feel welcome. That's how they treat everyone," she said. "Our goal is to promote driving and help people get started in the sport, whether they're interested in driving competitively or just tooling around for pleasure driving."
Tonya Hendrickson, from Palm Bay, attended with her 9-year-old Gypsy Vanner mare, Moon. "Moon has been a broodmare, and I've ridden her," Hendrickson said. "Now she is learning to drive. We're not interested in doing competitions. I think it'll help make her a well-rounded horse, and it's teaching me how to work on keeping a steady contact on the bit."
She was happy with what she learned at the clinic.
"We learned a lot here today. We're just long-lining right now. She hasn't pulled a cart yet. We're going home to work on everything. When she's ready for a carriage, I'll work with Paul Reese, a trainer near me," Hendrickson said. "Hopefully, in the next few months, Moon and I will be driving down the road."
The clinic offered participants all sorts of helpful advice. Jennifer Jaschinski brought Carmelita, her 7-year-old American Shetland pony, to improve their skills and also get measured for a new harness.
"I'm going to get a new synthetic Zilco harness," Jaschinski said. "They're a lot easier to care for than leather. You just rinse them off. I think it'll also be more comfortable for Carmelita. I attended a beginner's clinic last year and learned a lot."
Jaschinski is only in her second year with the sport.
"Driving is a lot of fun," she said. "You can invite friends to come along with you. You can bring your dog. I've ridden forever, and it's enjoyable to learn a new discipline. Everybody in the Whips has been very inviting and willing to help."
I watched as Carmelita got measured. It's not as easy as you think. The Whips provided a sheet with a diagram of a horse and spaces for eleven different measurements, done with a tape measure, including corner of mouth to corner of mouth, shoulder to shoulder and girth.
The group auditing the clinic had ringside seats and easily followed everything. Adcox wore a headset, and a cell phone sitting on the rail in front of the auditors broadcast every word. He walked along beside each driver, offering constant feedback on what the horse was doing and what the driver could do to improve things.
"Roll your shoulders and relax," Adcox told one driver. "Soften your hands on the transition from walk to trot. Use a half-halt. Don't over-flex him. For the downward transition back to walk, use your whip to push him forward into your hands."
Barbara Brook-Reese from Sebastian was the driver receiving this advice. When her session finished, I hopped onto the back of her carriage and rode along as she let Bo, her 13-year-old Appaloosa, walk and cool out.
"I've been driving for five years," she said. "I have a problem with vertigo, so it's hard for me to stay in a saddle. I have no problem driving. Everyone should try it. It's addictive."
But is has not always been easy.
"I'm just getting back into it now after a bad wreck three years ago," Brook-Reese said. "I was driving a different pony then, and he was too much for me. We took a corner too fast, and I came out of the carriage, which got wrecked."
Getting her confidence back has been hard.
"I had to find a horse more kindhearted, more trustworthy," she said. "Bo is very calm. I got him in May. He's really experienced, and we're doing well together. I trust him. This is our first clinic. I'm learning to get him to use his body properly."
Peggy Belvin, an experienced and accomplished driver, came to audit.
"I'm proud that our driving community offers so much — something for everyone, from beginners through advanced," she said. "This clinic is excellent. I came for inspiration. It's a great place for anyone who is thinking about getting into driving."
To find out more about the Florida Whips, visit www.flawhips.org.