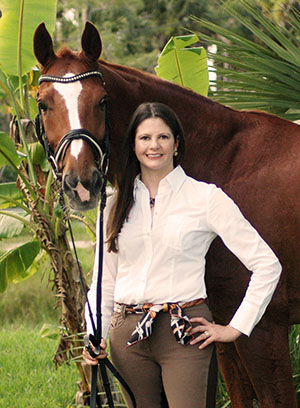 Beautiful equestrian art deserves to be exquisitely displayed, and now L. Lavone is giving artists an opportunity to see their work emblazoned on the stunning canvas of a high-quality, Italian-made silk scarf.
The online contest will run from now until Oct. 1, and artists are invited to submit their design for a chance to be selected as the next L. Lavone scarf designer. The winner will receive a cash award as well as royalties on all scarves sold bearing their design. Submissions can be made online at www.llavone.com/contest.
Newly founded by lifelong equestrian and longtime Wellington resident Michelle Cavanaugh Donn, L. Lavone is an equestrian lifestyle brand focused on bringing luxury gifts and accessories to the marketplace.
The company's first offering will be a selection of silk scarves in stores this fall.
"When I owned my own tack shop, one of my biggest challenges was finding beautiful, high-end gifts to stock for my customers," Donn said. "The few things I could get were the same items that every other store had year after year; they rarely changed. These gaps in the market led me to found L. Lavone."
An exquisite scarf can take an outfit from bland to chic or serve as a gift or keepsake that is treasured forever.
"Equestrian themed scarves are iconic," Donn said. "That is why I decided silk scarves would be our first product. I have always loved Hermés scarves; they are art. I have had a few favorite ones framed and hung up in my home."
Already selected to create the first scarf is fine artist Julie Anne Freund, a graduate of the Savannah College of Art & Design. Freund currently lives in Theinsville, Wis., where she works as a freelance artist and rides and trains horses out of Vintage View Farm. Most recently, the Hampton Classic Horse Show recognized Freund's talent of portraying the English sport horse, when her artwork was chosen for the horse show's official 2014 poster.
"In many of my paintings, I like to take the everyday images that equestrians see and create a work of art that is recognizable and yet done in a way that emphasizes the beauty of the sport and of the animal," Freund said. "Equestrian sport requires training, precise technique and conditioning, just as the act of painting."
Design submissions should focus on the English riding disciplines of dressage, hunters, jumpers or polo, or they should portray images that celebrate the beauty of the horse at liberty.
The original design can be created in any medium, including but not limited to a painting, drawing or computer illustration, and should be suitable for silk-screen printing. Contest details and entry instructions are available on the L. Lavone web site.
Artists interested in joining Freund in seeing their work worn around the nation and around the world should visit www.llavone.com/contest to learn more.
ABOVE: L. Lavone founder and owner Michelle Cavanaugh Donn, a longtime Wellington resident.