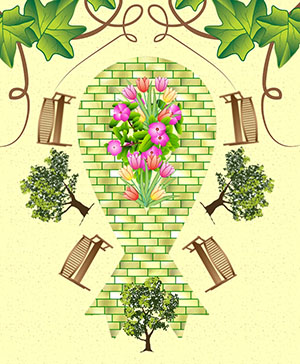 Groundbreaking ceremonies for the long-awaited Acreage Community Park southern expansion and the Garden of Hope project are set for Wednesday, Sept 17 at 4 p.m.
Garden of Hope organizer Tracy Newfield, whose daughter is a cancer survivor, explained that she started the project as a serene spot for families of cancer patients and survivors.
"I heard they were building the expansion, and I thought it would be a good place to put the park that I was developing," Newfield said, adding that the Garden of Hope will be the new location for the Acreage/Loxahatchee Relay for Life, since the park expansion includes a six-lane track.
Newfield said Garden of Hope of Palm Beach County is still selling inscribed paver bricks for $50 each to raise money for the park, which is being totally financed by private donations.
It also has a lemonade and popcorn stand set up at local functions to raise money for the project, which they will have at the groundbreaking.
There is a Facebook page and a web site at www.gardenofhope.net where people can learn more about the project.
The organization also puts together care packages for cancer patients. The project has advanced to the point that the group was recently able to organize a skydiving adventure for one of the patients.
Garden of Hope will also begin hosting a bingo night on the last Thursday of every month at Gator Shack beginning Sept. 25.
Indian Trail Improvement District President Carol Jacobs said the groundbreaking marks the culmination of one of the many goals she has set out to accomplish in her time on the board. "We've done it all and more," Jacobs said, pointing out that they completed the Hamlin House at Nicole Hornstein Equestrian Park and are about to put up Acreage entrance signs, and they now have microphones and a camera in their meeting room to record the proceedings.
ITID acquired the park expansion land in a trade with Palm Beach County for a smaller piece of property where the Acreage branch library is now located.
Jacobs said the park expansion project was held up while the current board settled old issues that arose when a previous board started clearing the land and illegally removed some trees that were determined to be in wetlands.
"We finally cleared that up, and we're breaking ground," she said. "I'm very happy because I was getting afraid that at the end of the year, it wouldn't be done, and that is something I'm very passionate about."
In addition to the running track, amenities at the park expansion will include a pavilion and shade structures, a flagpole and memorial area, a walking/jogging trail, a separate equestrian trail around the park, a paved parking lot, lights, restrooms and a multipurpose field.