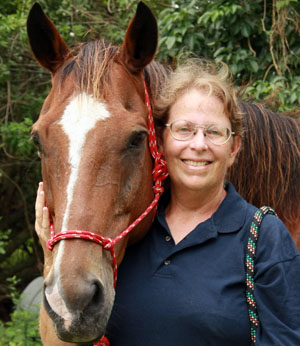 TAILS FROM THE TRAILS
Going on vacation is always a relief, but returning is sometimes just as welcome. On Sept. 6 and 7, the Palm Beach County Mounted Posse super show was back in full swing after its two-month summer break. The Jim Brandon Equestrian Center was humming.
The constant hot and dry weather had broken. Overcast skies meant cooler temperatures, but the storms also affected the classes, especially on Saturday. The afternoon dressage classes were cancelled, and the evening jumper classes got moved to the covered arena. Due to the heat, jackets were banned. Riders showed in collared or show shirts.
"It's wonderful coming back after the break," said Posse President Alyce Michelbrink, who manned the desk in the show office. "Sometimes the September show has a slight drop-off in attendance, because there are only a couple of shows left, and if you begin now, you can't earn enough points for a year-end award. But this show has been one of our biggest ever. We have over 600 entries."
Michelbrink said this points to growth in the organization.
"Many people are coming to check us out and plan to stay with us when we start our new circuit in February. We had riders from as far away as Southwest Ranches, Davie, Fort Pierce and Fort Meyers. The hunter classes are always filled, and the Western classes have exploded, with 15 in each class," she said. "Our dressage classes are packed, with 17 ride times in each class. Many lesson barns are now starting their riders off in dressage. The barn is absolutely full, all 128 stalls taken, and more on a waiting list."
Michelle Alvarez, owner and head trainer of Acts 2 Acres in Coconut Creek, brought one of her barn's two show teams of 11 riders and nine horses.
"We have a range of riders competing here today," Alvarez said. "Everything from beginners to 3-foot hunters. They've been doing great. We have some reserve champion ribbons. This is our first year coming to the Posse shows, and we love it. They're run very smoothly and professionally. Everyone is friendly and helpful. The grounds are outstanding, and the food is great, too. I tell all my friends down in Coconut Creek they should come."
Two of Acts 2 Acres' participants, showing in the Short Stirrups Division, were Emily Rey, 9, and Ciana Balino, 11.
"We got around pretty good," Rey said, petting Luna, her black pony. "He did really good. We're working on finding the correct spot to take off before each jump."
"I thought our round went well," Balino added. "I was nervous about jumping the hay bales jump, but Bella went right over."
Andrea Colombino, owner and head trainer of Dream Believer Stables in Wellington, brought along eight of her students.
"We always come to the Posse shows," Colombino said. "We've been coming for three or four years. I used to show Posse when I was a kid, so this is like home to me. I've always liked the relaxed atmosphere and the competitive but friendly classes. It's a great place for anyone to start showing and move up."
Three of her students — Francesca Herman, 13, of Wellington; Anna Thrash, 13, of Royal Palm Beach; and Sophia Wright, 11, of Lake Worth — echoed those sentiments.
"I love showing here," Herman said.
"It's great having lots of rings plus the covered arena," Thrash added. "It's a good atmosphere."
"I like the level of riding," Wright said. "It's competitive, but not too hard."
The shows include Western pleasure, hunters, jumpers and dressage, and run February through May and September through November. Barrel shows run January through June and September through December.
When the circuit starts up again in February 2015, there will be a few changes, including some new judges. The pleasure shows will start with the usual halter and showmanship classes, then all of the English classes will come before the Western ones.
The Posse is also adding some ranch horse classes, which will include trail classes featuring calf head roping and other ranch work-related tests. Dressage will be adding a second ring to accommodate the large response, and there might be a night session to take place under the lights.
The Posse always needs volunteers, everything from ring stewards to jump crew members, gate minders and office runners.
"Helping out at the Posse is a fun and easy way to earn high school community service hours," Michelbrink pointed out. "If you work enough hours, you can even earn a discount toward your show fees. The Posse is a wonderful place for anyone who enjoys showing at any level. This is our ninth year here at Jim Brandon, and it's a wonderful facility. We have two huge barns, lots of rings, the covered arena and lots of room for everyone."
For more information, visit www.pbcposse.com.