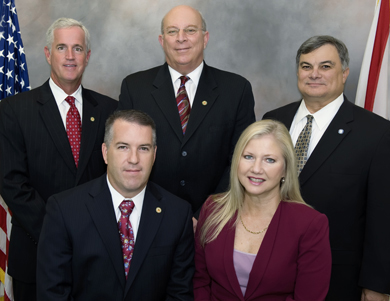 In a 3-2 decision Tuesday, the Wellington Village Council decided to seek proposals for a new solid waste removal contract rather than renew its current seven-year contract with Waste Management of Palm Beach for another seven years.
Although council members said that they had received good service in the past, and the Office of Inspector General agreed that renewing the contract was legal and ethical, the majority decided to rebid it in the interest of transparency, although it could result in a higher rate.
Director of Operations Jim Barnes said the council needed to advise Waste Management whether it intended to renew the contract, which expires in September 2015.
Ellen Smith, representing Waste Management, said the company has brought a high level of service to the village.
"Waste Management is a Fortune 200 company with more than 2 million customers nationwide," Smith said. "Our bench is very deep. We have 43,000 employees in the nation and 3,500 in Florida."
The company has 125 employees in the Palm Beach County office.
She pointed out that the company has received excellent reports from village staff and residents, and that Wellington is locked in at the original price agreed upon in 2009, with a consumer price index charge of 80 percent, where many county haulers charge 100 percent. She also noted that hauler charges are currently trending upward.
However, Joanne Stanley with competitor Republic Services encouraged the council to seek new bids.
"Our industry is very competitive," Stanley said. "There are many companies in Palm Beach County that would submit a proposal should you decide to move in that direction. Recent bid results confirm that when these companies compete for your business, you really stand to gain the most."
Stanley pointed out that if a request for proposals does not result in a satisfactory bid, the council has the option to reject all the bids and negotiate for the best price.
Councilman Howard Coates pointed out that the inspector general had rendered an opinion that the current contract was renewable as long as the terms remained the same.
Village Attorney Laurie Cohen added that the inspector general also encourages competition.
"My advice to you would be to either renew the contract for the same terms that are currently in place, and if you decide to alter those terms, I would have to advise you to rebid it," Cohen said.
Coates asked whether an upper limit could be imposed on the bids, and Barnes said that could be done, but that bidders did not have to comply.
Cohen added that if they put an upper limit in the RFP, the tendency would be for bidders to submit at that price and not necessarily lower.
Coates said that ordinarily, he would favor going out for bids, but he was concerned that in this case, the outcome might not be good, since the price was locked in so long ago. Even then, Waste Management's bid was substantially below the other bids, he said.
"If we do an RFP, we're going to be going into a no man's land of where there really could be an increase in the cost of service to our community," Coates said.
Barnes said that based on the most recent hauler contracts, the village's contract is in the middle. "We don't know," he said. "It is a risk. There is no guarantee."
Solid Waste Supervisor Jesse Wright said some of the haulers have older trucks that present a risk of hydraulic spills, and having newer trucks was part of the contract. "I don't know what's going to happen if we throw new trucks into the equation," he said.
Wright also pointed out that complaints have gone down progressively over the term of the contract.
Councilman Matt Willhite had concerns about some of the language of the existing contract and thought it would be in the best interest of the residents to put out an RFP. "I fully think that we are in a safer position when we put this out for an RFP, and we come back and put in place a better contract," he said.
Willhite also pointed out that the issue was not about service, but the terms and length of the contract, which if renewed, would take Waste Management to 14 years.
Councilwoman Anne Gerwig pointed out that renewing the contract would also lock the village in to the 80 percent consumer price index adjustment, where putting out an RFP would not guarantee that.
Barnes added that the consulting fee for a rebid would be about $60,000.
Vice Mayor John Greene was concerned about the length of the contract.
"This is not an issue of whether Waste Management is a good provider," he said. "They have set a standard that would be hard for any competitor to match. My only hesitation is the length of time for the contract."
Greene said he would favor renewing the current contract for a shorter period, but said that was not an option because it would change the terms of the contract.
"I don't see any other option than to go out for an RFP," Greene said.
Mayor Bob Margolis agreed with an RFP, pointing out that with annual average cost of the contract at more than $5 million, there is $35 million on the line in a seven-year contract.
"Let's see what the free market can bear," he said.
Willhite made a motion to put out an RFP, which carried 3-2 with Coates and Gerwig opposed.