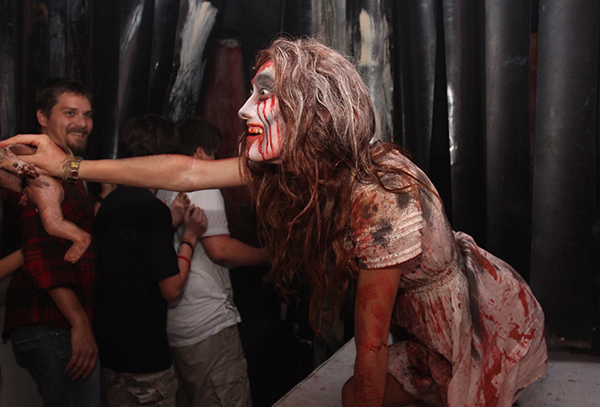 Halloween is four weeks away, but the staff of Fright Nights is already busy preparing to scare the life out of guests to this year's scary attraction.
The South Florida Fairgrounds will transform into a fright-filled event over four weekends: Oct. 10-11, Oct. 16-18, Oct. 23-25 and Oct. 30-Nov. 1. The midway of carnival rides opens at 6 p.m., and three haunted houses will open at 7 p.m. each night. Closing time on Thursdays is 11 p.m., and midnight on Fridays and Saturdays.
Creative Director Craig McInnis takes pleasure in figuring out how and what will scare the guests. In preparation for Fright Nights, he and Operations Director Alex Rodriquez visit others haunts and also attend the annual National Haunters Convention.
"Scary is what we spend most of our time concentrating on," McInnis said. "Some of the places we've visited have cool looking haunts, but they're not scary. We want our guests to leave with their heart racing. Other haunts may only last for 15 minutes, but you can make a whole evening of entertainment here for one set price."
The event will feature three newly themed and designed haunts: New World Order, Vile and Flamingo Hotel. There also will be one or two scare zones where unsuspecting guests will be surprised to encounter strange and creepy characters. It isn't possible to avoid the scare zones.
"We continue to re-imagine our scares," McInnis said. "We don't take it easy on anyone. I like the challenge of scaring the full-grown adult males who come here thinking they can't be scared. They're the toughest."
Up to 50,000 people are expected to experience Fright Nights. Admission is $25 for the three haunted houses and unlimited carnival rides, $15 for the three haunted houses and no rides, or $10 for an unlimited rides wristband. An "R.I.P." pass, a fast pass to skip to the front of the line, is $5. Discount tickets, which represent a $5 savings, are available through Oct. 9 at www.myfrightnights.com. Parental discretion advised for those younger than 12 years old.
On Thursday, Oct. 9, Fright Nights will present four 45-minute "Behind the Scenes" tours starting at 7 p.m. The tours are limited to 20 people per tour. For $10, patrons can get a sneak peek into the making of the haunts and meet the cast of characters.
Fright Nights also will present its Monster Bash Costume Party on Sunday, Oct. 26 from 6 p.m. until midnight. Admission is $10 and will give guests the chance to meet the cast and crew, enjoy finger foods and dance. Prizes from $100 to $500 will be awarded in a costume contest.
Parents of children under 12 years old may opt to take them to Spookyville, an old-fashioned Halloween event also being held at the South Florida Fairgrounds over two weekends and on Halloween, Oct. 17-19, Oct. 24-26 and Oct. 31. The event, sponsored by the South Florida Ford dealers, Coke and Kubota, will offer a full array of safe trick or treats, kiddie rides, games, crafts and pony rides.
For more info., call (561) 793-0333 or visit www.southfloridafair.com or www.myfrightnights.com.
ABOVE: Those who like to get their hearts racing should plan to attend Fright Nights at the South Florida Fairgrounds. Photo by Kelly Goodman