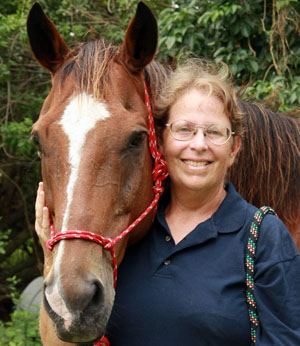 TALES FROM THE TRAILS
Tucked away in Rustic Ranches, off of Flying Cow Road in Wellington, Dream Believer Stables is nestled on five private acres. It's a little piece of paradise and the culmination of owner Andrea Colombino's dreams.
"I couldn't imagine anything better than this," she said, looking around.
The large, comfortable barn has 15 stalls. There are turn-out paddocks, a jumping ring and room to stretch. Andrea offers full board, training, lessons and sales. She teaches hunter/jumper on your horse or one of her school horses, beginners through advanced, kids and adults. It's not a high-powered sales or show barn, and the atmosphere is friendly and relaxed.
"What makes us special is that we're a real family barn. There's no push to do well at shows or even to attend shows, for that matter," Andrea said. "We do go to the local schooling shows, but we view showing only as a test of how your skills are progressing, not as an end in themselves."
Andrea bought this farm in 2003. Before that, she leased a farm in Lake Worth while she looked for her perfect property. When this one became available, she bought it with the help of her parents, then designed and built the barn.
"It's a real partnership, a family concern," she said. "I'm the one out here every day. They're silent partners."
Andrea is definitely the main force behind the farm. She started riding at age 10 when she attended a week-long riding camp one summer down in Delray Beach.
"It was phenomenal," she recalled. "The very first time I sat on a horse, I was addicted. That was it. I was done. I knew horses and riding were going to be my life. We lived in Lantana, but I made my parents drive me back to that stable two or three times a week, every week, after that. It was a long, 45-minute haul, but I didn't care. I had to be there."
Andrea kept riding and learning. At 17, she got a job at a small farm south of Augusta, Ga., training and breaking Saddlebred colts. After a year, she returned to South Florida and went to college for a time, then it was off to Tampa to train more horses and work as a groom. But her unwavering dream was to have her own barn.
"When we bought this place, I named it Dream Believer on the spur of the moment," she said. "It exactly fit my philosophy. If you believe in your dream strongly enough and follow it, you'll be able to make it come true."
Andrea credits much of her farm's success to barn manager Alex Gryskiewicz, whom she described as "the right side of my brain. She's just an amazing sidekick."
Andrea's favorite thing is watching her students learn new skills and progress.
"When I see someone attain a goal, like learning how to post or being able to jump a bigger fence, it's as if I'm the one doing it, right along with them," she said. "It makes me feel as if I've accomplished it, too. It really tickles me. My students constantly amaze me. They work really hard and do so well."
When she teaches, she focuses on equitation.
"That's what ties everything together," Andrea explained. "If you're riding in the right position, then you can use yourself correctly.
I'm also big on treating horses fairly. Most mistakes are the rider's fault, and you never take that out on a horse. You understand how and why the mistake happened, and learn from it to improve and grow from the experience."
Going to shows helps as a learning experience.
"When we go to a show, we try to present ourselves as polished and as ready as we can be," she said. "It's much more important to use showing as a learning experience than to just try to collect a bunch of blue ribbons. It's always about growing and improving, and taking a judge's opinion into account can be very helpful."
Kristin Cook of Wellington boards her horse, Eddie, a 13-year-old Thoroughbred, at Dream Believer Stables.
"I've been riding my whole life," Kristin said. "When I moved to Wellington from Massachusetts three years ago, I'd been out of it for a while, but this was definitely the town to get back into riding. I looked around at a lot of barns. After meeting Andrea, I started taking lessons here."
Eddie started out as one of the school horses. "We really clicked," Kristin said. "I leased him, then when the opportunity came up, I bought him. It's all worked out pretty well," she said.
She likes her time at Dream Believer Stables.
"I really like coming out to the barn. It's a very friendly, relaxed atmosphere, and everyone's nice. No drama. The horses are all well taken care of, and the lessons are fun. I like getting individual attention. Andrea has a good eye and really helps me improve," Kristin said. "I'd highly recommend Dream Believer Stables to anyone. It's a good match for kids and adults, and for riders at various levels, beginners through advanced. Come out and visit. You just might end up staying, like me."
For more information, call (561) 289-8515 or visit www.dreambelieverstables.com.