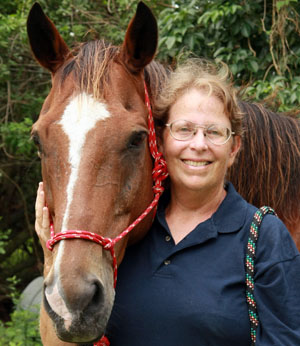 TALES FROM THE TRAILS
Some years ago, Lisa Kent moved to Loxahatchee Groves. Like many South Floridians, she had been a snowbird, then simply got tired of shuttling back and forth between Maine and Ocala. She got married and worked as a barn manager for her husband at their stable on D Road. When the relationship ended, so did her work with the stable. "Unfortunately, it was all in his name," Lisa recalled. "I walked away and started from scratch. It was challenging. I did it one foot at a time."
Lisa had been competing in three-day events. She had also learned to be a farrier, so a lost shoe just before a class wouldn't slow her down. Seven years ago, she opened Kent's Stables on C Road.
"My focus is helping people reach their goals," Lisa said. "There are proper steps and stages in learning to ride. Identify what you want to work on, and focus on exercises to help you accomplish those goals. Remember, you're only as limited as your thoughts allow. Share your goals with your instructors. My priority is enhancing my customers' awareness of their abilities. I have a favorite saying: 'God created obstacles to strengthen our character, and to see how well we get over those obstacles with the most positive focus.' That's what a good instructor does: helps students identify and overcome obstacles."
Bonnie Brooks of Loxahatchee works with Lisa. "The words, 'thank you,' will never be enough to express how grateful I am," Bonnie wrote to Lisa. "You've taken my 1,800-pound Percheron/Thoroughbred, Willie, from a pushy, nonresponsive horse to a wonderful, push-button dressage hopeful in just eight short lessons. I'm truly grateful for your enthusiasm, the passion that you feel for your job, and your positive attitude. Willie and I both look forward to our lessons, and I hope they will continue for years to come."
In addition to teaching and training, Lisa has studied holistic practices, taking courses with Horse Power in Florida and Equissage in Virginia. "Massage gives everyone a more relaxed, comfortable horse," Lisa said. "Every horse, whether high-performance athlete or family pet, can benefit from pressure point and sports massage therapy. It can increase circulation, relax muscle spasm, relieve tension, enhance muscle tone and increase range of motion. It's based on the idea that prevention is better than correction. It helps treat the cause, not just the symptom."
In addition to traditional equine massage, Lisa also does laser, Bioscan Light, Chi Equisonic Therapy, Biopulse Mg'Blk and Raindrop oil. She and Dr. Julie Montgomery do nutritional mapping, where they pinpoint a horse's specific nutritional allergies and needs.
"My awareness of the need for nutritional mapping started in 1996," Lisa recalled. "I was campaigning a 12-year-old Thoroughbred named Spiderman. We were long-listed for the Olympics. Suddenly, his hindquarters became so weak that he looked like he was drunk. Two vets said he had EPM, and I should put him down."
But that was not Lisa's course of action.
"I saw a sign at the feed store for a holistic class with Dr. Julie Montgomery, so I decided to give it a try. I had nothing to lose. I learned about the effects of additives and preservatives in feeds," she said. "In three months, Spiderman went from being a lawn ornament to having a second career as a school horse. She changed my understanding of food's value for everyone, both animals and people."
Montgomery, along with her husband, Greg, live in Fayetteville, Tenn., and have been teaching for 10 years. She is a metaphysician who holds a doctorate in natural health and is a master herbalist. Both are Certified Elite Master B.E.S.T. practitioners and Animal B.E.S.T. instructors.
"Nutritional mapping is like an individual fingerprint," Lisa explained. "It pinpoints what each body needs to work properly. Some additives damage the stomach, liver and kidneys, and bodies change over time. At some point, you can't process the junk anymore. Nutritional mapping educates people and gives them an accurate path to follow. It's a great option, and something that I wished I had known about it sooner."
Lisa's web site is filled with testimonials. For example, Jan Lamontagne, a USDF bronze medalist, writes, "Having a happy, healthy equine partner and athlete is of utmost importance to me as a rider, trainer and horse owner. My horse, Rising Star, is 16 years young and has been my partner for 13 years. Because of my work with Lisa over the past year, Rising Star is getting younger, stronger and more supple."
Lamontagne is is glad to be working with Lisa over the long term.
"When he has any little setback, as all athletes do, Lisa is there to help us through and get us back on track, good as new," she wrote. "Being a professional athlete, a tight budget is not always conducive to achieving high performance goals in the dressage arena. Lisa's nutritional mapping is extremely accurate. It has not only reduced my vet bills, but has cut my supplement bills in half. Having Lisa in my corner, I feel confident that Rising Star and I will achieve our goals and succeed in all we set forth to conquer along our journey together as partners learning to dance the dance."
For more information, call Lisa at (561) 310-3450 or visit www.kentsstables.com. Call Dr. Julie Montgomery at (931) 557-5005 or visit www.dragonflytraining.com.