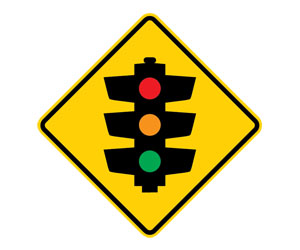 In a 3-2 vote, the Loxahatchee Groves Town Council approved a resolution to design a traffic signal and road improvements at Okeechobee Blvd. and D Road on Tuesday, over objections that the signal will have to be torn down when the county eventually widens the road to four lanes.
The town selected traffic engineers Simmons & White to do the project about two years ago, finally giving them the go-ahead to proceed this week.
"It has been on the council's radar and budget for approximately two fiscal years, and we are now at the point where we are prepared to move forward," Town Manager Bill Underwood said.
The engineering design will cost $57,806, and the council has budgeted almost $291,000 for the total design and construction.
Councilman Tom Goltzené reiterated his opposition to the project.
"I've spoken extensively about this in the past," Goltzené said, explaining that he did not think it was appropriate to spend the town's money to put up a light on a county road.
Vice Mayor Ron Jarriel said the light is needed to give traffic gaps so residents can get onto Okeechobee Blvd. safely.
"I feel, like most of the residents of Loxahatchee Groves, that we need that red light," Jarriel said. "We've got to have a stopping point to give our people a break to get on Okeechobee Blvd."
Jarriel added that morning and evening rush-hour traffic has become unbearable for residents trying to get onto Okeechobee Blvd., although county traffic studies have not warranted a light there.
He said that construction prices are starting to go up again, pointing out that he had been told one municipality waited six months to put up a light and the price had doubled.
"The county is going to do whatever it wants as far as two or four lanes or whatever, unless we fight hard as residents to stop them from four-laning it," Jarriel said. "No matter what, if they decide they need a different type light there, if they tear it down, they're going to have to replace it. For the safety of the residents of Loxahatchee Groves, I think we need it, and we need to do it now while it's reasonable."
Councilman Ryan Liang agreed with Jarriel about moving forward. He applauded a recent effort by residents to get a petition with 292 signatures opposing the light, but said only 25 percent of the signatures were from town residents.
"Most of them are from The Acreage, Wellington or Royal Palm Beach," he said. "Most of the people who I spoke to feel a need for a red light. Twenty-five percent of this petition doesn't say a lot to me. At this point, I feel that the town really does need this light."
Councilman Jim Rockett was glad the town was moving forward with the light.
"I do support the comments that Ron and Ryan have made," Rockett said.
Jarriel asked Mayor Dave Browning if he had met with county commissioners, pointing out that this was the first occasion that the town had had figures to show on paper with the cost, to see if they would be willing to pay for it.
Browning said he had mentioned the light to three county commissioners but had not gotten a commitment from them to pay for it.
"Right now, they are in the middle of elections," Browning said. "We are going to have a new county commissioner representing us in a month, so I think that will probably be the time, right after that, to sit down seriously."
Browning said that he lives on D Road and does not yet see a need for a light.
"If you listen to what [County Engineer] George Webb said about the Minto property, their plan is to four-lane, and they are just holding off as long as they can at our request," he said. "Right now, I don't see a need for it. There was a need for it before the boom stopped because you couldn't hardly get out of D Road sometimes. I'm not ready to go forward with this right now."
Browning said that many changes are coming soon to Okeechobee Blvd.
"We want to make sure we get input in on the design of that road where we can get a very large median," he said. "And I agree with Tom; it's a county road. We're not getting a commitment from them yet."
Resident Keith Harris said he appreciated the council's consideration of the health, safety and welfare of the community, but pointed out that the town does not have site control of the intersection.
"It is a county road," Harris said. "This road is going to be modified sooner than later into four lanes."
He added that the petition opposes the town funding the light, not the light itself.
"We're going about it the wrong way," Harris said. "We need to go to the county and trust the county. If you spend the $290,000 and the light goes up and in three years, four years, we're going to see a four-lane road… our light will be cast aside."
Resident Tim Hart-Woods said the Florida Department of Transportation has not warranted a light at the intersection.
"It's not on the list, so technically we don't need it," Hart-Woods said. "You guys are trusted with the spending of the town's dollars, and I think it would be a betrayal of our trust to do that."
Resident Philomena Liang said that if the county tears down the light, it should have to replace it, and that there has been overwhelming support by residents in the past.
"Money-wise, time-wise, even need-wise, we need it," she said. "As council members, you are elected to be stewards of our money. It's for the life and safety of the Groves residents. County residents use the road, but they don't have to jump in and out of Okeechobee."
Goltzené said he thought it was a false argument to say that if the county tears down the light, it will replace it.
Liang made a motion to approve the resolution, which carried 3-2 with Browning and Goltzené opposed.