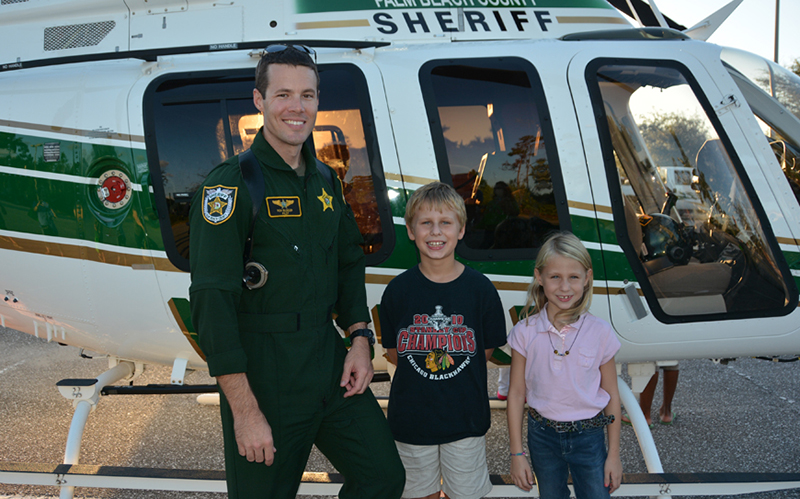 On Friday, Oct. 10, the Palm Beach County Sheriff's Office hosted its annual National Night Out Against Crime event at the Target Superstore on Okeechobee Blvd. in Royal Palm Beach.
"This is a big outreach effort to connect with the community and foster partnerships," PBSO Capt. Jeff Lindskoog said. "Law enforcement can't solve crimes on their own. It's takes the involvement of the entire community."
SWAT vehicles, a marine unit and helicopters were among the crime fighting equipment on display. The PBSO also had tables and booths set up with crime prevention information, and deputies were on hand to talk about PBSO's crime fighting efforts.
Many residents, Lindskoog said, probably aren't aware that the PBSO conducts cursory surveys of businesses and residences to determine how vulnerable they are and the likelihood of them being victimized.
Lindskoog said the PBSO wants residents to take more of an active role in preventing crimes.
"They have to pay more attention to what's going on in their neighborhoods and call in suspicious activities," he said. "People who live in their neighborhoods know who belongs, what is out of place and what's unusual. They shouldn't be afraid to pick up the phone and call 911."
The event featured a bounce house and an obstacle course for kids, along with free food and soda.
"This is a big, blowout event," Lindskoog said. "We hope people walk away with a better understanding of law enforcement and a better appreciation of what law enforcement officers do."