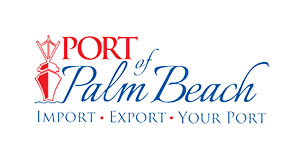 Democrat Peyton McArthur and Republican Kesnel Theus Jr. will face off in the Nov. 4 general election for Seat 5 on the Port of Palm Beach Commission. The seat is being vacated by Port Commissioner Ed Oppel, who chose not to seek re-election.
McArthur, chief aide to County Commissioner Paulette Burdick for the past four years, worked at the port as director of human resources from 2003 to 2010.
"I'm very knowledgeable of the strengths and weaknesses, the good and the bad, at the port," he said. "I feel strongly that there need to be some changes, and I think I can do that."
Both Theus and McArthur oppose the proposed $88 million project to widen and deepen the Lake Worth Inlet that connects the port to the ocean. The plans have been met with growing opposition from local civic associations.
"The $88 million port project is absurd because the port would have to match $33 million, and the likelihood of the port coming up with $33 million is only slightly greater than me coming up with $33 million," McArthur said. "They just don't have it."
He pointed out that the $88 million is actually eight separate projects.
"They might be able to look at taking those eight and prioritizing them for what does the most benefit for the port and the least damage to the environment," he said.
McArthur said the port is profitable and that it projects a $1.5 million revenue surplus at the end of the coming fiscal year, but $1 million of that surplus is projected to come from the Island Breeze casino day cruise, which has had mechanical problems for the past year.
"They've had tremendous problems and were in dry dock for a long time," he said. "Now they are back, and they are projecting that they will sail again sometime in November, but the likelihood of them living up to their financial commitments is questionable at best."
McArthur said the expansion of the port is not realistic because it is completely landlocked, with businesses, FPL and the City of Riviera Beach to the north, south and west.
"I know the port would like what we call 'lay-down area,' but the problem right now is finding it," he said.
McArthur said he was one of the last candidates to file because he was waiting to see if Burdick was going to have a serious opponent.
"People had asked me to run. I told them I shared their concerns about the incumbent, but I told them to try to find a candidate. If they did, I would try to help that candidate, but if they could not find another candidate, and if Commissioner Burdick did not face serious opposition for her re-election, [I said] that I would run," he said.
McArthur added that he would like more transparency in the business of the port.
"What I mean by that is having the agendas, backup [materials] and a video of the meetings available online," he said. "It's not expensive, and the port should do it."
He would also like the port to sign an agreement with the Office of Inspector General to come under its oversight.
Theus, 25, has lived in Wellington since 2006 and is a graduate of Palm Beach Central High School. This is his first time running for elected office.
Theus recently graduated from Nova Southeastern University with a bachelor's degree in legal studies. "I am going to start law school, and I am an aspiring attorney," he said. "I want to specialize in transportation law as well as Social Security and veterans' disability. I actually work right now as a Social Security and veterans' disability claims advocate."
Theus said he attended a workshop put on by the Supervisor of Elections where he saw that Oppel's seat was open.
"I was looking at the issues and looking into the opinions of Ed Oppel, and I felt that right now was a good time for me to run," he said. "I'm into the importing and exporting business, and the port primarily deals with importing and exporting. Being a business owner, I felt as if I can make executive decisions and be responsive to the people as I respond to clients on a daily basis."
He thinks the major issue at the port is dredging the channel. "It's not financially feasible for us to go ahead and widen the channel," he said. "I felt as if Ed Oppel wasn't really trying to compromise with the different organizations and associations throughout the county and addressing their concerns. The widening of the channel can have a serious impact on the environment. Along with that, I spoke to Florida Crystals. They do business with the port, and they stated that widening the port will not affect the way they do business."
Theus added that he thought widening the channel is not necessary because the Port of Palm Beach should not aspire to compete for shipping from the Panama Canal and the larger ships that will use it when the project is finished.
"We're not going to be a Port Everglades or the Port of Miami," he said. "We need to focus on being responsive to the people and increasing trade here in our county."
Theus said he would also like to change the storage facility for a scrap metal business that operates out of the port.
"What I would like to propose is that we find a different storage space for that type of business so that it doesn't become a hazard," he said. "The metal could fly due to a strong gust of wind. It could damage property, and it could hurt someone being where it is."
Theus is single but plans to marry next year. He enjoys football and choral singing. He is a member of the NAACP, the Palm Beach Civic Association, a board member of the Men of Purpose Ministry at Salem Community Church and a board member of Theus Outreach Ministry.