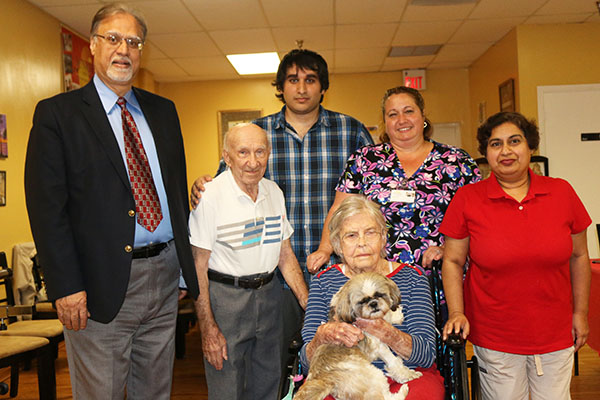 Sunrise Adult Day Care Center, located on Forest Hill Blvd. in Greenacres, is the place to go for seniors who are in need of companionship and socialization during the day.
Owner Sam Zutshi, a former newspaper editor and publisher, worked on human rights issues in New Jersey and was working with seniors before moving to Florida.
"I really felt a need with seniors for stimulation, for keeping them busy," he said.
He was pushed in the direction of adult daycare after discussions with doctors.
"We basically want them to get out of the house," Zutshi said. "There's not much told about adult daycares. I've had a very good response from the people — those who are here — their loved ones, they understand."
Many of the families who bring their loved ones to Sunrise started with bringing them by once or twice a week, and have gradually increased the number of days.
"You see people are staying home, and they do nothing but watch TV, getting bed sores," Zutshi said. "Here, we give them activities. I'm in Laughing Yoga… I'm certified for Laughing Yoga, and basically, I love it. I love to work with them. I come here in the morning early."
Many of the seniors, Zutshi said, call their time at Sunrise going to school or camp, because coming to the center provides a sense of routine and stability, which has the potential to be transformative.
"They see that change," he said, explaining that he has received letters and cards singing the praises of Sunrise and the services offered at the center.
One very special helper at the center is 7-year-old Fluffy, a shih tzu therapy dog. "Everybody loves her, and she knows everyone. In the morning, she stands here," Zutshi said, pointing to the door. "She knows people are coming, she goes and greets them."
Zutshi said he is most proud of the services provided at the center, and being able to see the transformation that occurs within the seniors as their engagement and socialization increases.
The typical day at Sunrise varies, as activities are adjusted based on individual interests.
One of Zutshi's future goals is to partner with the Department of Veterans Affairs, to be able to provide the service for veterans.
Activities Coordinator Neil Zutshi, Sam's son, went to college, planning to attend law school. However, after some time working at the center, he has decided to stay.
"I've been here almost a year now," Neil said. "I don't really consider it work. The week goes by pretty fast, I've noticed. The weekend is always coming up… I'm not looking at the clock."
One lady, he said, was very quiet, and her family said she wouldn't participate in the activities. "Eventually, we got her to do all of it, and eventually, like a lot of them, she became more open to us," Neil said.
Her family told Neil that she even would get ready on the weekends, calling the center her work.
"It does good. A lot of the time, the seniors open up more," Neil explained. "It's physical activity, and it's mentally stimulating activity, and it does make a difference. A lot of the time, seniors sit home and watch TV and they don't really do anything. So when they come here, they interact and they socialize."
As the center has grown, the group has become even more close-knit. "We're pretty small, but it kind of feels like it's a family," he said.
Some of the favorite activities at the center include board games, playing toss and bingo.
Laurel Siemon, whose grandmother Margaret, 91, is a participant, has seen many changes since bringing her to the center.
"She's definitely more inquisitive. She's been more observant around here. She's more concerned about the people here. She loves the people here, because they take care of her, and she knows that. She loves coming here," Siemon said. "We were looking for something that she could do during the day with people her age and that she could stay active with her mind."
Previously, Siemon had a hard time getting her grandmother out of the house because she was afraid of doing new things. "But here, she has other people close to her age and she feels comfortable coming here," she said. "That's what we were looking for, and we found that."
Bringing her grandmother to Sunrise has been truly advantageous to Siemon's family, who feel as though they made the right choice. "We've cherished it. She calls it her school. She always says in the morning, 'Are we going to school today?'" Siemon said.
Sandhya Mistry, vice president and administrator, has noticed that many of the seniors have progressed with help from Sunrise.
"We had one lady who was very forgetful and needed help with words, and we started her with word searches," she said. "In the beginning, she could hardly even circle one word, but in the end, when she left us, she was an expert at word search."
It's all about improving quality of life, Mistry explained.
"They seem more alive," she said. "Doing activities, mental and physical activities for them, stimulates their brains, their minds, and it makes them more alive than sitting home doing nothing but staring at the TV. They get to interact with their peers. That socializing is so good for them."
Sunrise offers many additional services, including counseling, education, evening care, exercise, health screening, meals, medical care, physical therapy, recreation, respite care, socialization, supervision, transportation and medical management, and is open Monday through Friday from 7 a.m. to 6 p.m.
Sunrise Adult Day Care is located at 6623 Forest Hill Blvd. For more info., call (561) 249-3856 or visit www.sunriseadultdaycare.com.
ABOVE: Sam Zutshi, Joe Breednarek, Neil Zutshi, Maria Mendez and Sandhya Mistry with Margaret Siemon holding Fluffy at Sunrise Adult Day Care Center.