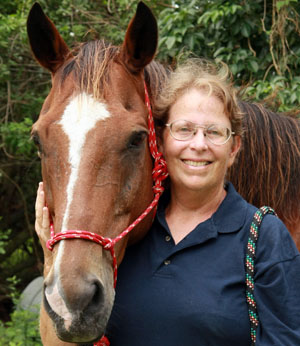 TALES FROM THE TRAILS
Some good kids in need of a little help — that's one way to describe the members of the Palm Beach County 4-H Horse Judging Team.
Kendall Hill and Kayla Chisholm, both 16, Kayla Wise, 17, and her mother, Joell, along with group leader Pam Kalil, wandered about the Jim Brandon Equestrian Center during September's Palm Beach County Mounted Posse show with a basket, hoping to sell candy and raise money. The fourth team member, Alexandra Pledger, couldn't make it, but these three were hopeful and passionate. Their goal is to raise awareness about their group and raise cash to help defray the costs of attending competitions.
"These kids work really hard," Joell Wise said. "They study videos every week, practicing how to judge classes in all different English and Western disciplines."
They also work with judges at local shows.
"We shadow them and discuss the reasons they placed riders as they did, either after the show or during the lunch break," Kayla Wise said. "We compare judging cards and discuss the reasons they were placed as they were."
"Being in 4-H opens a lot of doors," Chisholm added. "This is my third year as a member, and my second year as part of the horse judging team. I hope to major in veterinary science, and this is a way to learn a lot, everything from grooming to riding."
Chisholm said the experience gives her a deep understanding of the horse judging process. "It helps me understand what judges are looking for. I constantly think about it, especially when I'm showing Dekin, my Quarter Horse, in dressage or pleasure classes," she said. "It has helped me become a better rider and form a stronger bond with Dekin. It's a very educational program, and I think a lot of kids should join."
Kalil, the group's leader, said the team members have a lot of dedication.
"They meet each week to practice, and then spend weekends at the local shows shadowing judges, sometimes for a few classes, sometimes all day," she said. "They go to the Posse, the Acreage Horseman's Association and the Jupiter Horsemen's Association shows. Most of the judges are very accommodating. A lot of them are 4-H alumni themselves."
The team's current goal is to attend the three competitions held at the South Florida Fair, the Tampa State Fair and the University of Florida in Gainesville, along with the Reasons Clinic, also in Gainesville, where groups from all over the state meet to practice and learn tips, pointers and strategies. "Last year, our group placed third overall in the state," Kalil said.
Kayla Wise said the team is hoping to improve this year.
"The top two teams get to go to regionals in Georgia," she said. "I do believe we have a good chance of representing Palm Beach County at regionals, and maybe even at the nationals in Texas. The hardest part of the competition is giving the reasons why you placed each class as you did. During the competition, we have to judge eight classes, and four of those are reasons classes."
There are four riders in each class. The real judges stand in the center of the ring, and members of the judging teams stand around the outside rail.
"The teams are split up, and everyone stands by themselves. There's no talking allowed, or you'll get disqualified," Kayla Wise continued.
"You can take notes on how and why you place the class. Then, one by one, you go before the judge and explain how and why you placed the class, and you can't use your notes. It's all oral."
Negativity is frowned upon. "For example, you can't say a horse had bad conformation. You have to say a different horse had better conformation. And for every two faults you give, you also have to give one positive comment, like mentioning the horse had a correct, forward trot," she said. "The judges compare how accurate your placing and reasons were. The closest to their own results get the most points. It's very individual, and all of the judges are looking for different things. Some of them have pet peeves, like wanting to see longer reins or looking for more contact. It varies a lot. If I was a judge, I'd want to see longer reins, riding with the seat more than the hands. I hate seeing riders jerk their horses around."
She specifically enjoys judging the reining classes. "They pack a lot of technique into a short time, all the galloping, sliding and pivots," Kayla Wise said. "But we have to be able to judge every kind of class, both Western and English. As a team, we help each other, studying all the different disciplines and comparing our notes."
Last year, there were about 300 kids attending the statewide competitions, and the local group came in third. "That's pretty impressive," Kalil said. "But it's expensive — the traveling and staying in hotels and meals and all. We're hoping some local businesses or interested individuals will step forward and help us out. Last year we raised $400 to $500, and so far this year we've raised about $400 by selling candy or cleaning stalls after horse shows. We're a nonprofit organization, so we can offer a tax break, plus we can do advertising on all our promotional materials and our Facebook page."
In other words, some good kids in need of a little help.
For more information, call Kalil at (561) 436-9847 or visit www.pbcgov.com/coextension/4h.