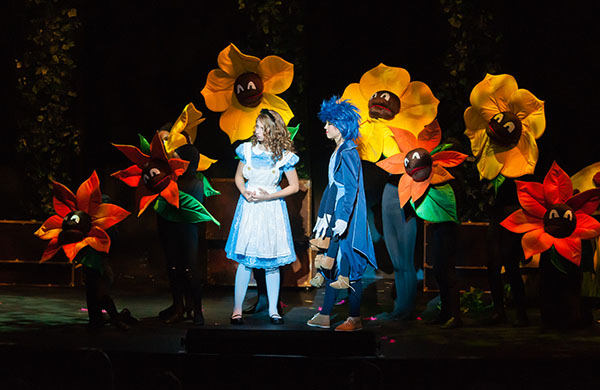 Take a journey through your wildest dreams with an all-new take on Alice in Wonderland in Through the Looking Glass on Friday, Oct. 17, at 7:30 p.m. at the Maltz Jupiter Theatre.
The production will include a number of young actors and actresses from the western communities.
Join many of the beloved traditional Lewis Carroll characters — the Queen of Hearts, the Mad Hatter, the Cheshire Cat and more — as they take you on a whole new adventure to a wild new world with floating heads, talking animals and a tap-dancing egg. Follow teenage Alice as she learns to "look in the mirror" and like what she sees. With an exhilarating original pop score, the show is fun for all ages.
"Through the Looking Glass is incredibly visual, engaging and funny," said the show's director, Andrew Kato, who conceived and developed the piece. "It's highly imaginative, and its pastiche pop score is clever and smart. I guarantee that this high-energy musical will have our audiences dancing in their seats to the score's uptempo, memorable tunes."
Isabella Bockman-Pedersen, 9, of Wellington enjoys participating in the show because "it tells people how to think positively about themselves and have higher self-esteem."
The story follows a modern-day Alice, who is having trouble fitting in with her peers at school. To learn how to face her rivals, she steps through a "looking glass" to transport herself into a far-out land to find answers and her way back home, but not before she takes a magical boat ride, battles with the Jabberwock and jitterbugs with a group of friendly flowers.
"The production is reflective of the youthful issues that kids face every day, and Alice learns real-life lessons from the kooky characters along her journey," said John Mercurio, the production's writer, composer and lyricist. "This production will appeal to all ages because everyone can identify with Alice."
Emily Mooreland, 9, from Royal Palm Beach enjoys bringing the story to life in a relatable fashion.
"My favorite part about being in Through the Looking Glass is working with all of the costumes, props and great people," she said. "People should attend Through the Looking Glass because it is a very funny story that also has a great message and lesson to teach all kids."
The musical stars 30 local children and teens, ages 9 to 17, who will all sing, dance and act throughout the production, otherwise known as "triple threat" performers. They were discovered through the theatre's popular First Step to Stardom auditions this past spring.
Part of the theatre's Emerging Artist Series, the original musical is the fifth collaboration between two local industry professionals and longtime friends: Mercurio, of North Palm Beach, and Kato, of Jupiter, the theatre's producing artistic director. The show also features original choreography by West Palm Beach choreographer, performer and dance teacher Ricky Nahas.
Aspiring to make a mark on Broadway, 17-year-old Cara Young from Wellington has found that the experiences gained through the show provide a solid foundation for her future dreams.
"I love being in this production of Through the Looking Glass because of the wonderful cast and teachers I get to work with," she said. "Being up on stage doing what I love is so rewarding, and the fact that I have so many loving and supporting individuals helping me accomplish my goals is truly indescribable. All of these individuals have a role in my life leading up to my dreams of being on Broadway, and I'm so thankful for all of them."
The not-for-profit Maltz Jupiter Theatre has become one of Florida's preeminent professional theaters, committed to production and education through its collaborations with local and national artists.
The show's popular professionally recorded cast album will be available for purchase at the show. Tickets are $25 for adults and $15 for students. For more information, or to purchase tickets, call (561) 575-2223 or visit www.jupitertheatre.org.
ABOVE: Royal Palm Beach resident Emily Moreland, 9, the flower third from the left, is one of several local performers in Through the Looking Glass at the Maltz Jupiter Theatre on Friday, Oct. 17. Photo by Tim Pereira