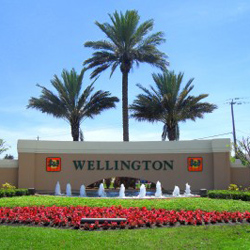 The Wellington Village Council on Tuesday rejected a proposal to allow commercial vehicles in parking lots of multifamily communities, concerned that it unfairly singles out those areas for looser code enforcement.
Growth Management Director Bob Basehart said the proposed ordinance would amend the prohibition of parking at some residential properties, pointing out that in the last four years, the number of commercial parking violations have been about 300 per year.
"The areas of highest percentage are generally what we refer to as transitional neighborhoods," he said. "About 37 percent of violations are in those areas. We have been approached by some individuals, such as landlords, who requested some accommodations be made."
Basehart said commercial vehicles can be parked in back or at the side currently, or in garages where they are not visible. Cars can be left on driveways as long as signs are removed when parked.
He said landlords have asked that residents in multifamily areas who take home commercial vehicles be allowed to park there in order to improve the tenant base. He said those tenants either have to drive directly to work or to their job location in those vehicles.
"Landlords feel that if some of the vehicles could be parked in multifamily areas, it will allow a higher rental rate and improved property value," Basehart said.
The proposed change would apply only to multifamily homes and not to single-family residences.
The ordinance would have allowed one vehicle per tenant and would be limited to no more than three-quarter-ton rated trucks with 8-foot maximum height and 20-foot maximum length. Open display of tools and equipment would have been prohibited.
Wellington's Planning, Zoning & Adjustment Board recommended approval in a 4-2 vote last month.
Councilman Matt Willhite was concerned about enforcement and asked, for example, how code officials would be able to tell the difference between a three-quarter-ton or a 1-ton truck.
"It comes down to how much work a code officer will be required to do," Willhite said. "That's where it becomes a problem."
He was concerned that the ordinance would only lead to more citations, and that enforcement would be more difficult due to the estimations the code officers would have to make. "You're putting in too much gray," Willhite said. "I think you're becoming too focused on your size and lengths."
However, Willhite favored a portion of the amendment that would ease the current requirement that workers cannot be at a location for more than an hour, which he felt was not realistic.
"That's just a number because we had to have something written in the code," he said.
Willhite disagreed with the provision that single-family residences were excluded from the ordinance and objected to the reference to "transitional neighborhoods," saying that it's denigrating.
"I'd really like to change that idea and thought," Willhite said, pointing out that he had driven through those neighborhoods and they are looking better.
"I think it's funny there were no code violations in equestrian areas," he said, pointing out that dual-wheel trucks common in the equestrian overlay often have signs and are over a 1-ton rating.
He asked how the ordinance would be enforced, and Village Attorney Laurie Cohen said the property owner would receive the violation notice and it would be up to him to see that the tenant resolves the problem.
"I think this is going to cause too much disparity," Willhite said, adding that he would prefer a pilot program to work out glitches.
Councilman Howard Coates said he thought the issue was not multifamily vs. single-family, and that there were probably almost no violations in single-family developments because they have associations that enforce rules on commercial vehicles.
"I think it is bad policy for the council to embark on policies that separate where a resident lives, whether it is single-family or multifamily," he said. "The reality is in a community this size, you are always going to have a significant rental population. I'm not going to support this."
Coates suggested that the village establish some type of municipal parking area for commercial vehicles. He also supported a change to allow vendors to work at a location for longer than an hour.
Councilwoman Anne Gerwig asked if there was some reason to apply the ordinance only to multifamily rental units, and Cohen said that was part of the council's prerogative as a legislative body. "It's a little bothersome to me," Gerwig said. "I don't think that it's fair."
Gerwig said she has also driven through the neighborhoods in question and thought their appearance is improving and did not want something that makes the neighborhood less desirable.
Gerwig agreed with the idea of setting aside a neighborhood for a pilot project, and also questioned why no one in the equestrian overlay had received citations. Staff said the equestrian overlay is exempt.
Vice Mayor John Greene was concerned that code officials were not enforcing rules already on the books, pointing out that bad landscaping and other code issues were reducing the value of neighborhoods.
"There is a standard, but that's a standard that we've tried to establish in Wellington," he said. "There are unintended consequences by lowering standards and impacting the value of homes. I'm not going to support it. We've got a strong toolbox, and we're not digging deep enough."
Greene also pointed out that some tenants might have rented there because commercial vehicles were not allowed.
Mayor Bob Margolis said the issue hits home to him because there are commercial vehicles parked in his neighborhood. "This is a classic example of 'don't do it in my neighborhood,'" he said.
Margolis asked Village Manager Paul Schofield what other communities do, and Schofield said Royal Palm Beach has a lot where commercial vehicles can park.
"I would like to do some type of research," he said. "I haven't heard that this is an issue except for one very passionate landlord."
Margolis said he would not support the ordinance as written but would support an additional time allocation for contractors to park where they are doing work. "I do support finding a solution to this, and I believe there is one," he said.
Willhite made a motion to deny approval of the ordinance, which carried 4-1 with Gerwig opposed.
Schofield said he would come back with an ordinance granting additional time for vendors and would look for a lot where commercial vehicles can park.