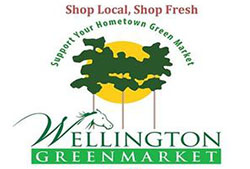 The popular Wellington Green Market returns Saturday, Oct. 18 with more locally grown and harvested vegetables than ever before.
The market will take place Saturdays from 9 a.m. to 1 p.m. at the Wellington Municipal Complex (12300 W. Forest Hill Blvd.). Fresh fruits, vegetables, snacks and treats can be found in abundance at the ever-growing market.
Organizer Peter Robinson estimates that there will be 40 to 50 vendors this year, which is more than in the past.
"The scale is increasing in size. It's going to have a stronger presence than it has ever had," Robinson said, due in part to changes to the Cottage Law. "I have incredible bakeries, and the Cottage Law — which allows you to legally bake in your home — has brought out some amazing people with amazing products like homemade pies and cookies and that sort of thing."
Visitors are treated to specially made fresh goods such as tortillas, sweet Caribbean bread and more.
"We're going to have NK Lago Farms with bananas and plantains, plus the plants," he said. "Later in the season they'll have multicolored beets and broccoli and cauliflower, all grown in Palm Beach County."
Abundant free parking is available, and the location provides a great atmosphere for bringing along a dog. Homemade dog treats are available, with plenty of healthy snacks and refreshments for humans as well.
Some previous produce and products include plants, herbs, seafood, waffles, doughnuts, coffee, lemonade, peppers, carrots, bananas, okra, beans, tomatoes, onions, cucumbers, strawberries, eggplants, radishes and more.
Local crafters bring specialty soaps, lawn ornaments, candles, cosmetics and other goods to the market.
Many unique features set the Wellington Green Market apart from the typical farmer's market. However, there is one feature that only Wellington's market can claim. "It has the most locally grown vegetables of any market in Palm Beach County with the grower in the market," Robinson said.
Regardless of the weather, the market is going to be open. "We're there rain or shine," he said. "The vegetables keep growing."
Opening day will hold a special audio treat for visitors. Calypso and reggae recording artist Dymin, from Belize, will be playing live Saturday, Oct. 18.
Across from the market is the Wellington Amphitheater and Scott's Place playground, making the market a convenient location for a family outing or picnic after shopping for fresh goods.
Vendors are encouraged to reserve a spot prior to Monday, Oct. 13.
For more information, call Robinson at (561) 283-5856 or visit www.wellingtongreenmarket.com or www.facebook.com/wellingtongreenmarket.