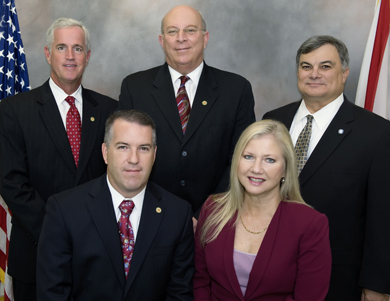 The Wellington Village Council directed its staff Tuesday to move ahead with purchasing the Wanderers Club executive golf course property for use as a passive park, but to negotiate a better price for the deal.
The 38-acre course winds through the Lakefield South community and is commonly used by joggers and bicyclists. In July, the council had directed staff to move forward with negotiations.
The village received appraisals of between $700,000 and $3.5 million, with $1.3 million and $1.4 million appraisals in between. The high appraiser, who had submitted based on highest and best use, rather than the desired use by the village, later resubmitted a lower appraisal.
While the Wanderers Club wants closer to the $1.3 million figure, some council members feel the $700,000 appraisal is more reasonable.
The Wanderers Club continues to operate its more challenging 18-hole, par-72 golf course, while the executive course is no longer active.
Wellington Project Manager Mike O'Dell said village staff also did an environmental audit and found chemicals commonly found on golf courses. The course has been out of play for seven years, many of the asphalt paths need repair, and the irrigation system has not been operated since the course fell into disuse.
The Wanderers Club pays about $17,500 a year in ad valorem taxes to the village.
O'Dell said the village currently has similar passive park areas, including Peaceful Waters and Birkdale. He said the village as the owner can rezone the property into parks and conservation, which will guarantee its existence in perpetuity, adding that if the village does not act, it could give a private developer the opportunity to do something with it.
Councilman Matt Willhite wanted to know more about how long the property has been sitting, but pointed out that it has been well-maintained and mowed.
"We're not having blight and animals and critters," Willhite said. "I think there's a lot of questions, the main one being what to do with it."
He pointed out that the village's K-Park parcel has gone through years of trials and tribulations and is still in agricultural use, rented by the village to farmers. However, Wellington doesn't really offer a lot of amenities in its northwestern neighborhoods.
"Every day I see people walking or jogging on those broken-down trails," Willhite said. "I see this as an area the residents can utilize."
Willhite said he would like for staff to negotiate a price, and questioned Village Manager Paul Schofield on whether a developer could buy the land and, with some effort, obtain the necessary rezoning. Schofield said it is possible.
Willhite said he thought the purchase would be a benefit to the village, but wanted to be sure that the security of the residents is maintained. "If we don't purchase it, we could have a whole lot of houses or townhouses," he said. "I don't see any negatives compared to what we could gain from it."
Councilman Howard Coates said he strongly favored the purchase. "When you ask people what defines Wellington, it's parks and recreation," Coates said. "That's why I'm attracted to this proposal. I think it would be a nice community park. I think that would serve those communities well."
However, he did have some reservations about the price and what its final use would be.
"I would be opposed to an equestrian park, because of injecting a use that is foreign to the residents there," he said. "My support for this would be primarily that it remain open passive space."
O'Dell said that by averaging the high and low appraisals, they arrive at about $29,000 an acre, which is close to the club's independent appraisal of $28,311, or just under $1.1 million.
"I think the number is too high," Coates said. "It puts us in a bad negotiating position giving them what they're asking."
Coates said he would prefer to pursue the $700,000 appraisal.
Councilwoman Anne Gerwig asked if someone else was looking at the property, and O'Dell said he assumed that developers were.
Schofield said the property is protected to some extent, being zoned as commercial recreation and in a planned unit development, and it is described that way in the village's comprehensive plan.
Coates noted that any changes would have to come to the council for approval.
Gerwig said she was concerned about security and suggestions of reworking the lakes, which she thought would be expensive, but favored the village buying the property.
"It's a good deal to buy this, but I don't think there are people lined up to buy this," she said. "I don't have a problem with it being a passive equestrian area. The residents are used to it. For us to have a public riding area that is publicly owned would add a huge value."
Vice Mayor John Greene said he strongly favored the purchase and thought there were developers interested in buying the property. He thanked the Wanderers Club for giving the village the first opportunity to buy it.
"I want to thank you for that consideration because there are people lined up to buy this," he said. "Just because it doesn't have the current zoning doesn't mean the potential buyers aren't out there."
Coates made a motion to move forward with the intention of closing by the end of the year, which carried unanimously.