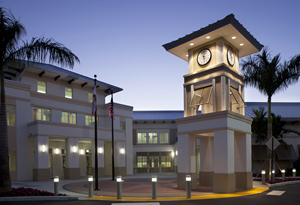 The Wellington Planning, Zoning & Adjustment Board recommended approval Wednesday of amendments for seasonal equestrian permits that would level the field for events held outside the equestrian preserve area.
Planning & Development Services Director Tim Stillings described the proposed changes to permit review procedures.
"The intent of the changes is to ensure that the permitting section addresses all equestrian competitions," he said. "It references only equestrian shows, and we want to make sure that it includes all of the competitions."
The amendments also would change the thresholds from what is now required to obtain a permit, and will need approval by the Wellington Village Council to take effect.
"The current regulations only allow the equestrian permits within the equestrian overlay zoning district (EOZD)," he said. "We have a number of equestrian events and activities that do happen outside the EOZD. We want to try to apply the same permit to all equestrian activities, regardless of where they are in the village, rather than have those within the EOZD obtaining this type of permit and those outside obtain what was just a special general-use permit."
Under the current approval process, permits for two or fewer events, with each of those lasting four days or less, would require administrative approval, and events more than four days long, or involving more than two events, would go to the council for approval.
Stillings said the code currently permits the shows in land uses designated as commercial recreation, anywhere that is designated for equestrian use on a planned unit development master plan, or zoned for commercial equestrian uses.
"The review of that was that it was not very well-defined in terms of where those could be," he said. "In fact, by our code, any equestrian property greater than 5 acres can have a commercial stable, so effectively those properties are zoned for commercial stabling, so I wanted to address that element of the code."
Stillings also pointed out that ancillary uses outside the EOZD, such as for stabling tents, were in conflict with regulations within the EOZD, and recommended adopting the EOZD regulations for all areas.
The amendments were approved by the Equestrian Preserve Committee on Sept. 10.
Working with the Equestrian Preserve Committee, village staff came up with a tiered system to determine the threshold for permitting, as well as some additional criteria to determine that threshold for the different types of permits.
The first type, which would not require a permit, would allow a maximum number of show days to be one per week up to 12 per year with a maximum of 50 competitors and attendance of 100, with no vendors or entertainment.
"The idea there is that these are very low-impact events," Stillings said. "These are shows that have historically occurred in the equestrian community, and the equestrians felt that it was something that they wanted to continue to support and allow without the oversight of the village government."
The second tier, which would require administrative approval, was separated into two sub-tiers by the Equestrian Preserve Committee so it would not hinder previous events that have gone on historically.
"There are differences for those outside the EOZD because the idea there is that those properties are not or were never intended for equestrian uses," he said. "Those are some of the golf course areas and other open spaces that we have outside the EOZD, where occasional equestrian uses occur, such as some stick-and-ball activities or polo matches and other entertainment."
The first sub-tier would be for two events per week or competition with a maximum of 12 events per year, no more than 75 entries, and no more than 100 spectators and four vendors. The second sub-tier would be shows of no more than four days with no more than two events per year, no more than 100 entries and a maximum of 500 spectators and 10 vendors.
"That's because the adjacent property owners aren't expecting events and activities, so we felt it was necessary to have a different threshold for the approval process," Stillings said.
Events exceeding those parameters would require council approval. To maintain some consistency, Stillings said some events within the EOZD that previously required no permit would now require administrative approval.
He said the Equestrian Preserve Committee wanted staff to simplify the permit renewal process and reduce the renewal fee to $250 from the current $500. They also wanted a tiered fee for those requiring council approval as opposed to administrative approval, recognizing that those requiring council attention would require more staff time.
PZA Board Member George Unger asked whether the fees actually covered staff time, and Stillings said an analysis had not been done in some time on the actual staff cost, but that the assumption was administrative review would require less time than going to the council.
PZA Board Chair Carol Coleman asked whether the permit fee was per event, and Stillings said the permit can cover several events within a six-month period.
Unger made a motion to approve the proposed changes, which carried 6-0.